IBTM World 2017
Join us in Barcelona from 28 - 30 November and meet our 22 exceptional partners, from hotels and venues to DMCs and transport providers!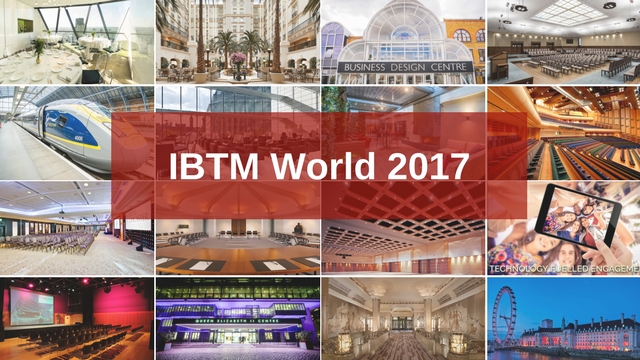 IBTM World 2017 gives event planners and MICE professionals a chance to gain more insight and professional contacts, learn from industry experts and, of course, to meet with the London & Partners Convention Bureau team on the London stand G10.

Let us introduce you to our 22 wonderful stand partners from all over London. We will be joined by a fantastic variety of hotels, venues, DMCs and transport providers on the stand, so book a meeting with them at IBTM World in Barcelona today.
1. Barbican
Barbican is a purpose-built venue holding conferences and arts venues. They are one of the world's most creative venues holding up to 2,000 delegates. Their tropical conservatory is utterly unique and would be the talking point of any event. 
2. Business Design Centre
The Business Design Centre offers a range of spaces for your event – from smaller rooms for smaller meetings through to conferences for up to 2,000 delegates. They also offer their exhibition space which offers up to 6000m². The capabilities are truly flexible and ideal for any event.
3. etc. Venues
etc. Venues provides a fleet of conference, training, meeting, exhibition and event venues across the most envious locations in the City, South Bank, and Central London, accommodating groups from 2 to 500 people. Each venue is tailored to its speciality and customer demands in order to deliver unrivalled service.
4. Eurostar
Eurostar is the only high-speed train that directly links the UK to France and Belgium. It offers a tailored service for your attendees and brings the luxury you would only expect to find on a long-haul trip – they have you covered! Ask them about reserving a carriage for a meeting at IBTM World.
5. Glh Hotels
Glh hotels offer over 130 extraordinary meetings and events spaces that are located all over London in hotels like the Hard Rock Hotel and thistle, just to name a few. Every venue has its own personality which makes it easy to find something that is perfect for your event, whether it's a board meeting or a wedding, they have it all.
6. Historic Royal Palaces
Historic Royal Palaces offer a range of exceptional venues that are not only open to the public in the day – they are also available for private hire. Have a dinner in one of London's most famous landmarks – The Tower of London or host a summer event in the gardens of Kensington Palace and sweep your delegates off their feet.
7. Kings Place Events
In the heart of London we find the award winning Kings Place Events, located only a few minutes from King's Cross and St Pancras station for Eurostar connection, which makes it accessible for anyone. They offer a selection of event spaces with spectacular views over the Regent's Canal or auditoriums perfect for ceremonies or product launches.
8. Marriott London Complex
Marriott London Complex have a collection of hotels including 5 Starwood Hotels across London in central and easily accessible locations. Enquire about your next event with them at IBTM 2017 and find out which hotel would be perfect for you!
9. Nobu Hotel Shoreditch
Nobu Hotel Shoreditch offers spaces well-suited for both large conferences and intimate business meetings, featuring Nobu-inspired catering menus. Flexible rooms boast an abundance of natural light, infused with the raw creative energy of East London. The Nobu ensure you make the most of your time and event experience.
10. Novotel London West
Novotel London West is conveniently located 3-mins walk from Hammersmith tube station with easy access to Heathrow and Central London. Novotel London West offers space for up to 2000 delegates across 33 meeting areas with well-appointed facilities.
11. Park Plaza Hotels & Resorts
Park Plaza Hotels & Resorts offer over 80 meeting rooms all over London, some a few minutes walking distance from the city's most famous attractions and well connected with London's excellent transport network. Park Plaza can accommodate any size event, small to large.
12. Principal. London DMC
Principal. London DMC is a specialist London destination management company that can assist with your event in any way you wish – from finding simple fulfilment solutions to take ownership of an entire ground programme. Find out at IBTM World how Principal. London DMC can tailor the service for you.
13. QEII Centre
The QEII Centre is the perfect venue if you are looking for a venue with stunning views of Westminster Abbey and the Houses of Parliament that will surely wow your guests. The experienced team at QEII Centre can bring any of your ideas to life with their 32 multi-purpose event spaces.
14. Radisson Blu Edwardian
Radisson Blu Edwardian offers meeting rooms in a wide choice of 4 and 5 star hotels across the very best locations in London, with dedicated teams, expertise and creativity in equal measure. World-class facilities and amenities combine with consistent, first-rate service. Radisson Blu Edwardian has the winning formula for running successful events.
15. Royal College of Physicians
The Royal College of Physicians is located in central London overlooking Regent's Park and is known for its magnificent conference facilities, exhibitions space and the garden of medicinal plants. With the support of the dedicated team at the Royal College of Physicians your event will be the highlight of the year!
16. Royal Lancaster London
The Royal Lancaster London is ideal for any event due to its size, location, and amazing backdrops. It is located opposite Hyde Park and is therefore ideal for central meetings and overnight stays. You can also accommodate up to 3,000 delegates for events, which makes it also one of the most flexible venues in London.
17. Searcy's at the Gherkin
If you want to impress your attendees, look no further! Searcy's at the Gherkin offers a panoramic 360 degree view of the London skyline and will certainly impress your delegates. This centrally located unique space can host events for up to 260 guests.
18. The Doyle Collection
The Doyle Collection has three wonderful luxury hotels that are all ideally located near famous attractions and areas – In colourful Soho, in the shopping district of Covent Garden or Kensington's luxurious district. There is something for every event planner here.
19. The Landmark London
The Landmark London is known for being one of the finest luxury hotels in London with its distinctive style and unique ambience. Its combination of classic British elegance with deluxe facilities means any event planner looking here will not be disappointed.
20. Unique Venues of London
Unique Venues of London offer over 80 unusual venues around the capital that range from palaces and historic houses to galleries and museum – for instance sip champagne on the Coca-Cola London Eye or have a dinner at the wax museum Madame Tussauds. The options are endless!
21. University of London - Senate House & Stay Central
Not only does the University of London offer world-class education, but it also has conference facilities. The venue is ideal for conferences, banquets and has always been a hit for film shoots. You can host an event in the same event space as featured in The Dark Knight. Ask the team on the stand for their best recommendation for you.
22. Wildgoose
Wildgoose is an innovative and market-leading company for team building fun, interactive tours and events. From fully-managed corporate events to smaller self-run activities, they can deliver gamified solutions for a range of purposes using their unique geo-based technology. Meet them or try out their tour of London quiz at the show.
To meet the London & Partners team along with our 22 stand partners, please book an appointment and visit us at IBTM World 2017, on stand G10. If you are unable to attend the tradeshow, contact our team of experts who can help you with your next London event.