Promotional 24hour rate at Novotel Wembley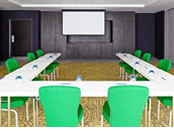 Valid: 21 Mar 16 - 28 Feb 17
Book an event at Novotel Wembley and take advantage of these great promotional rates
High Season rate of £160.00 24hour rate
Low Season rate of £145.00 24hour rate
There are two meeting rooms and a Breakout area with lots of natural day light, free WiFi and A/C, catering to functions such as board meetings, training seminars.
On the door step of the iconic Wembley Stadium, home to The FA.
Register now
Signup now to redeem this offer
Sign in to access fantastic special offers. It only takes a few seconds and it's completely free.
Terms & conditions
Conference and event terms and conditions apply to each booking. Applicable for min 12 delegates and max 30 delegates. Subject to availability.
24hour package available on Mondays and Thursdays only. 2016 high season rate is valid from 1 May – 15 July & 1 Sept – 15 Dec, 2016. Low season rate valid from 16 March, 2016 – 30 April & 16 July, 2016 – 31 August & 16 Dec, 2016 – 28  Feb, 2017.
Group terms and conditions apply to bedrooms.