Book your event at Novotel Wembley with this great promotion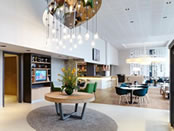 Valid: 21 Mar 16 - 31 Dec 16
Book an event at Novotel Wembley and take advantage of these fantastic DDR rates
£41.00 Full DDR with three breaks & lunch
£38.00 Half DDR with two breaks & lunch
Novotel London Wembley is located on the door step of the iconic Wembley Stadium, home to The FA.
They have two meeting rooms & a Breakout area with lots of natural day light, free WiFi and A/C, catering to functions such as board meetings, training seminars etc.
Register now
Signup now to redeem this offer
Sign in to access fantastic special offers. It only takes a few seconds and it's completely free.
Terms & conditions
Conference and event terms and conditions apply to each booking. Applicable for min 12 delegates and max 30 delegates. Subject to availability.
M&E Conference package valid until 31 December, 2016. Bookable before 31 August, 2016.