Book an exclusive carriage with Eurostar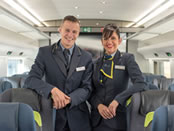 Valid: 05 Jul 16 - 01 Mar 17
Book an exclusive carriage on Eurostar between London and Paris or Brussels at a competitive rate of £3,248 return for a maximum of 56 seats or £4,408 for a maximum of 76 seats
This special off peak offer is available for certain departures after 12pm and is subject to availability. Exclusive carriages in Standard class have a capacity of 56 seats on the Brussels route and 76 seats on the Paris route. Eurostar also offers exclusive carriages in Standard Premier and charters at competitive prices.
Register now
Signup now to redeem this offer
Sign in to access fantastic special offers. It only takes a few seconds and it's completely free.
Terms & conditions
The special off peak offer is available for departures after 12pm, Tuesday – Thursday only but other timings are also available at a higher rate. See attached our Price guide. All rates are subject to availability