Celebrate Christmas at Kingsway Hall Hotel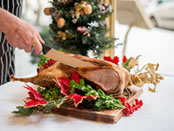 Valid: 14 Nov 16 - 23 Dec 16
Christmas is fast approaching and Kingsway Hall Hotel want to let you know dates they still have available through November and December. There is a special offer of £100 per person for all-inclusive themed packages! 
14th, 15th, 16th , 17th November
21st, 22nd , 23rd, 24th November
28th, 29th, 30th November
1st, 2nd December
5th, 6th, 7th, 9th December
12th, 13th, 14th December
19th, 20th, 21st 22nd 23rd December
Register now
Signup now to redeem this offer
Sign in to access fantastic special offers. It only takes a few seconds and it's completely free.
Terms & conditions
Package at special rate of £100 per person inc vat must be contracted by 31 October, applies for all Monday to Wednesday dates only, subject to availability and subject to signed contract and deposit paid.