Discounted DDR at Clayton Hotel Chiswick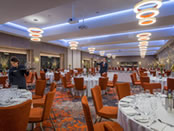 Valid: 01 Jan 17 - 31 Jan 17
Clayton Hotel Chiswick are offering a discounted DDR rate of £45.00 per person (normally £65.00 per person) throughout January 2017
Clayton Hotel Chiswick are offering a superb discounted daily delegate rate in January (£20.00 off the normal rate) and also offering 12% commission on all pre-booked items.
The hotel has just undergone a £19m refurbishment and has state of the art meeting & event rooms capable of holding up to 400 people.
Register now
Signup now to redeem this offer
Sign in to access fantastic special offers. It only takes a few seconds and it's completely free.
Terms & conditions
Subject to the hotels availability. Minimum numbers of 10 people would apply for a DDR rate