Great New Year DDR offer from Imperial Venues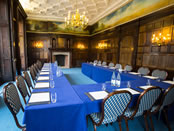 Valid: 01 Jan 17 - 31 Mar 17
Imperial Venues is kicking off the New Year with its best ever DDR offer for all events booked for January, February and March 2017.
Available at the historic townhouses, 58 Prince's Gate and 170 Queen's Gate, the package is now available for just £47* per person, reduced from £75.
The package includes breakfast treats and refreshments, mid-morning coffee and biscuits, delicious lunch and afternoon tea and cake to round off the day.
58 Prince's Gate and 170 Queen's Gate DDR Offer
£47 per person + VAT. Includes: 
Room hire
Projector and screen
Wifi access
Arrival tea, coffee and pastries
Mid-morning tea, coffee and biscuits
Working lunch
Afternoon tea, coffee and chef's cake selection
Mineral water
Notepads and pens
Register now
Signup now to redeem this offer
Sign in to access fantastic special offers. It only takes a few seconds and it's completely free.
Terms & conditions
This offer is only valid for new bookings taking place in January, February and March, subject to availability.
*Price excludes VAT. T&Cs apply.