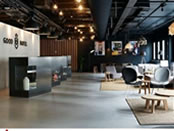 Valid: 01 May 17 - 31 May 17
Good Hotel want to celebrate their arrival with you and will do so by offering 15% commission when you book your first group or event with them.  with stay dates in May to August.
Additionally, all guests will enjoy a complimentary drink on the house, during their stay! How Good is that?
Register now
Signup now to redeem this offer
Sign in to access fantastic special offers. It only takes a few seconds and it's completely free.
Terms & conditions
Offer available until 31 May, stay dates until 31 August. Subject to availability. Minimum length of stay may apply.