Save 10% when you book your festive meal at Novotel London West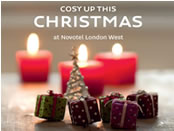 Valid: 15 Aug 17 - 29 Sep 17
BOOK NOW: reserve your spot for your festive celebrations with Novotel London West before September 10 and receive a 10% discount for you and your guests!
Register now
Signup now to redeem this offer
Sign in to access fantastic special offers. It only takes a few seconds and it's completely free.
Terms & conditions
This offer is applicable to groups of 10+ for restaurant bookings & minimum numbers apply for private parties.