Celebrate the festivities at Church House Westminster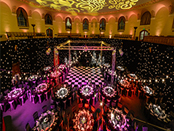 Valid: 07 Nov 17 - 24 Dec 17
With Christmas just around the corner make sure you have your party venue secured, Church House Westminster have carefully designed three different packages - Emerald, Ruby and Diamond to make your 2017 Christmas party one to remember. Packages are available from £82 +VAT per person.
www.churchhouseconf.co.uk/christmas
Register now
Signup now to redeem this offer
Sign in to access fantastic special offers. It only takes a few seconds and it's completely free.
Terms & conditions
All offers are limited and subject to rate availability, offer may be withdrawn at anytime.