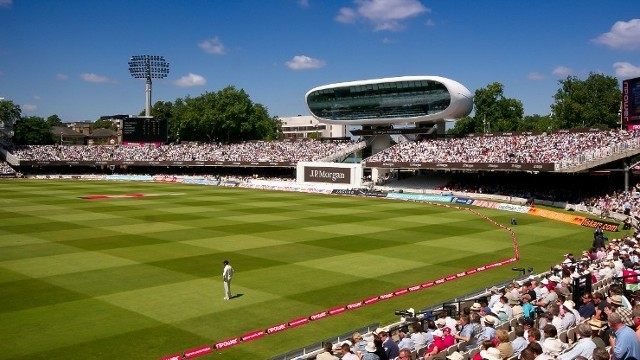 Introduction
Lord's, The Home of Cricket, is renowned as the most famous and historic cricket ground in the world. Throughout the year, it is an ...
Overview
Lord's, The Home of Cricket, is renowned as the most famous and historic cricket ground in the world. Throughout the year, it is an ideal venue for conferences, exhibitions, product launches and dinners. From the Victorian elegance of the Pavilion to the striking lines of the J.P. Morgan Media Centre, Lord's offers a wide range of facilities that allows for flexibility and creativity. Its excellent location – leafy St. John's Wood in the heart of London – and stunning vistas of the hallowed turf, make Lord's a unique and popular choice for any event.
Lord's Afternoon Teas have proved to be a huge success in 2011. Guests enjoy a sumptuous traditional afternoon tea in the Long Room, overlooking the Lord's outfield followed by a guided tour of the famous ground. Book now for 2012!
Room layouts
Room
Style
Capacity
J.P Morgan Media Centre (408m² / 4,390.08ft²)
Reception
100
Classroom
70
Tiered
70
Banqueting
50
Boardroom
14
Long Room (266m² / 2,862.16ft²)
Reception
300
Banqueting
200
Museum
Reception
200
Nursery Pavilion (1,125m² / 12,105ft²)
Reception
900
Classroom
350
Cabaret
400
Banqueting
750
Theatre
600
The Committee Dining Room (60m² / 645.6ft²)
Reception
80
Banqueting
60
The Film Theatre
Theatre
55
The Pavilion Roof Terrace (161m² / 1,732.36ft²)
Reception
250
The Presidential Suite (59m² / 634.84ft²)
Reception
70
Classroom
28
Cabaret
48
Banqueting
60
Theatre
50
Boardroom
44
The Tavern Rooms
Classroom
12
Theatre
25
Boardroom
20
The Warner Room
Reception
100
Classroom
50
Cabaret
50
Banqueting
70
Theatre
100
Boardroom
45
The Writing Room (72m² / 774.72ft²)
Reception
70
Banqueting
50
Thomas Lord Suite
Reception
500
Dinner/Dance
350
Classroom
130
Cabaret
160
Banqueting
350
Theatre
300
Boardroom
62
U Shaped
73
Facilities
Access into the Building

Flat routes from parking area to entrance


Event Facilities

Breakout Rooms
Raked or tiered seating offered
Venue can display vehicles inside


General Facilities

On site parking
Good views


Leisure Facilities

Fitness centre

Contact Details
Looking for more information on organising an event at this venue?
Address:

Lords Cricket Ground
St. Johns Wood Road
NW8 8QN


Tel:

0844 8246565

Fax:

+44 (0)20 7616 8750

Email:

Web:
London & Partners
As the official convention bureau for London, we offer free, impartial advice, guidance and support to event planners, associations and convention organisers.
Contact us directly if you are planning your event from outside the UK or working on behalf on an international client. We can help you and your delegates access the best that London has to offer.
Tel: +44 (0)20 7234 5833