Free afternoon in London?
Complete your London event with a flourish with this perfectly balanced slice of London life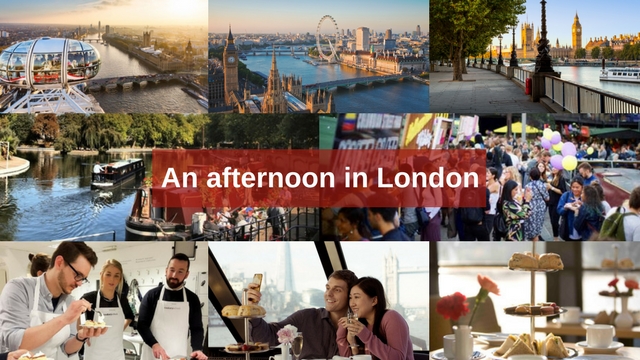 With the spring months edging closer, London's historic landmarks provide the most spectacular views (and selfie opportunities!) as they bask in the late afternoon sun. Not only is London visually blessed, it also offers an infinite number of unique and exciting activities to keep your delegates entertained. 
So where to go first? A spot which evades the hustle and bustle of central London is Little Venice – London's answer to the stylish Italian city. Canals, along with trendy riverside restaurants & bars, it offers the perfect setting for an afternoon stroll. If you'd prefer, you can take a narrowboat trip up to Camden market and explore the many shops, stalls, bars and cafes, few of which follow convention. Inspire your delegates with the creativity and innovation established in this area of London. 
For a taste (quite literally) of luxury, pop on the tube and within 20 minutes you can reach the highly reputable Cookery School on Little Portland Street. They offer a vast range of classes for up to 16 people, from a flavour of the Middle East to the ultimate afternoon tea, there is a class to accommodate all palates. Not only are they sustainable and great for CSR, the Cookery School cater for all abilities, so the 'I'm not very good at cooking' excuses are out! Of course, following the class you can enjoy your creations alongside a hard-earned glass of wine, tea or coffee. 
However, if cooking really isn't for you, then we would suggest afternoon tea on the river Thames with City Cruises for smaller groups. The cruise departs daily from Tower Pier at 15:30 and offers the chance to see the best views in London whilst enjoying some tasty treats for brilliant value. As we leave the winter months behind us, this is a wonderful excursion when London is aglow in the sunshine. 
Spring is a lovely time to be in London as delegates can enjoy more daylight and the warmer weather. Whilst we have outlined some ideas above, the opportunities to explore London and create memorable experiences are endless. For more information and advice on hosting an event in London, contact the London Convention Bureau team.