A behind the scenes tour with Showslice CEO Damian Oracki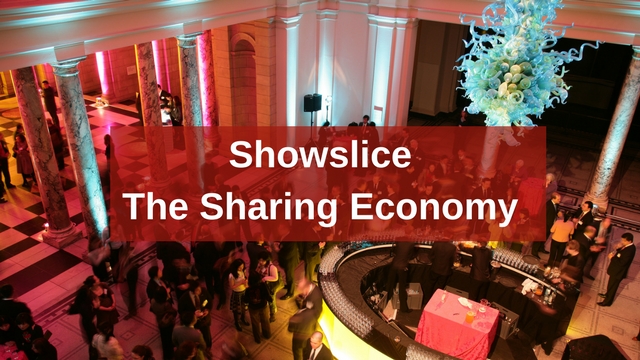 Before I give you a little peek back-stage to this so-called "sharing economy", I first would like to tell you a quick story about how I came to discover an idea. I've been working on the temporary infrastructure and supplier side of the events industry for just over ten years, starting off as part of the crew unloading 44ton trucks full of staging, AV kit and whatever other hefty gear event organisers needed to put on a good show. Thereafter I moved into health and safety and venue management for some of the largest events in the world and one thing I have learnt for sure is that I freaking love the events industry.
But it hasn't all been glitzy parties and thrilled crowds. It can quite often get rather frustrating working "back-stage" so to speak. A good example would be where we would often find ourselves spending a couple of days on end rigging for one production company at a swanky London event venue. We would set up a large gig involving truckloads of kit, only to be used for a five-hour event. We would then need to break it all down overnight and load out first thing the next morning, but would have to wait at that same venue for our next shift where we load in for an entirely new production company. It's the nature of a very fragmented events industry. We often found ourselves loading in and rigging almost the same set-up as the one we had just taken out. What a waste of time and money! Where was the communication?
Frustration is what I felt. Adversely, I would then also notice large media companies bringing in several of their owned awards ceremonies and breakfast briefings back-to-back at one venue, where only a short changeover of branding was required between events. This gave them a costs savings of up to 70% off their venue set-up hire and supplier costs. I would also often work on Christmas party themes that were being set-up at one venue by a savvy organiser and then sold exclusively back-to-back to businesses for their Christmas parties.
Alas! In 2013 I started to ask the question, why wasn't there a solution to an obvious communication problem? A platform or service where venues, dates and ideas were promoted and any great production set-up, anywhere in the world, anytime of the year could be shared. And that is when Showslice was born.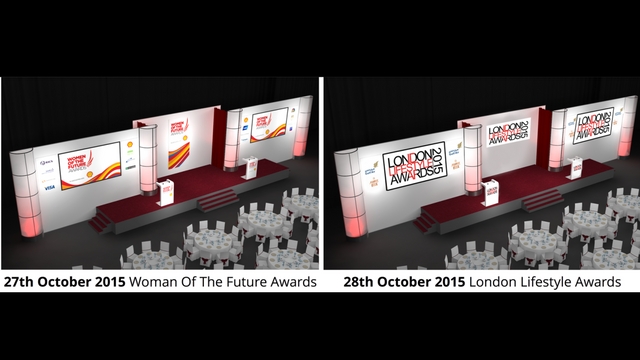 The above 2 events held at the Hilton London Park Lane Hotel in October 2015 easily shared their event set-up and both saved 35% of their total production costs.
I felt pleasantly shocked when six months into developing Showslice a friend of mine asked me if I had heard of Airbnb or Uber? I had no idea what he was talking about and was amazed to learn of this concept called the "sharing economy" - a buzzword used to describe a trend where millennial entrepreneurs were creating communication platforms to solve real world problems in travel, hospitality and logistics. This technology was hardly about sharing and more so about improved communication with a deeper and more personal reach, allowing us to promote, trade and in some cases, exploit parts of our own lives a lot easier through online marketplaces that are now cheaper than ever to build.
Damian Oracki, CEO of Showslice has found a niche in the event industry during a time where sustainability and cost saving are high on the priority list. His idea to create this Showslice communication platform helps event organisers share infrastructure at one location, helping the environment, saving money and time, and helping improve guest experiences.
To find out more information about Showslice or hosting an event in London, contact the London & Partners convention bureau team who are happy to help.