Christmas ideas for your business trip
London is famous for its Christmas festivities. Join in the fun on your business trip to London this December.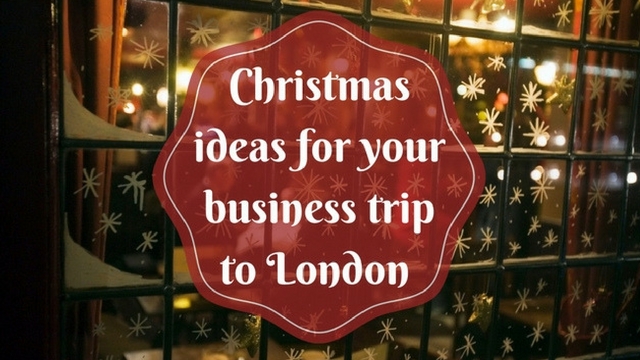 Can you believe it's December already? This time of year means only one thing - Christmas! There's plenty going on to get you in the festive spirit in London this December, whether your trip is strictly business or if you have plenty of time for some leisure activities. Here are some great London spots to combine pleasure with business events during the Christmas season.
Tower of London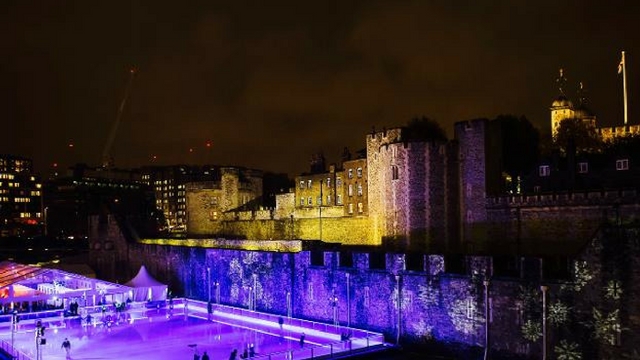 A great option for a touch of Christmas magic is the Tower of London. If you're looking for an event space, Pavilion at the Tower, part of the Concerto Group, is a great option sitting within the North Moat of the Tower. Normally closed off to visitors, it is a magnificent innovative space for a unique winter event. The venue can hold up to 1,200 for a reception or buffet.
After the event you can go for a spin at the Tower of London Ice Rink. Skate your way around the ice in the shadow of this 1,000-year-old London Landmark and in the evening see hundreds of snowflake lights illuminate the walls of the castle.
But if ice skating isn't what you had in mind, drop by the Eis Haus pop-up ice bar where everything you see - even the glass for your drink - is made of ice.
Trafalgar Square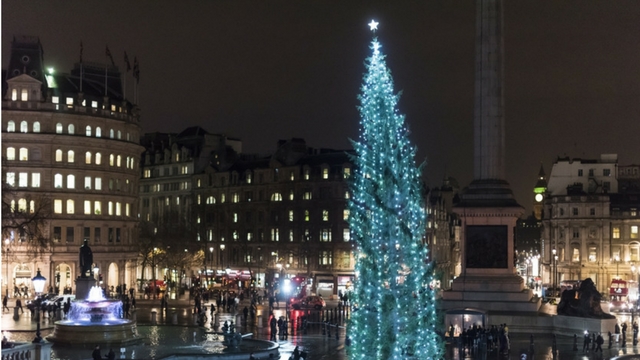 You can combine your Christmas party with magical atmosphere at Trafalgar Square. Admire the spectacular 25-metre (82-foot) Christmas Tree, gifted to Londoners from the people of Norway each year and lit up with around 900 bulbs. Or watch the traditional Carol Singing Programme on most days at the base of the Christmas Tree. Plus you're already in the prefect spot to visit the National Gallery.
The Café on the Square is available for private hire for any event of up to 50 guests catering for a variety of requirements such as a corporate canapé and drinks reception or an informal celebration.
Or for a Christmas party that's a bit different you can cruise along the Thames with City Cruises. Departing just down the road from Trafalgar Square at Westminster Pier you can celebrate day or night with a unique view of London. Learn more about their exclusive Christmas offers here.
Covent Garden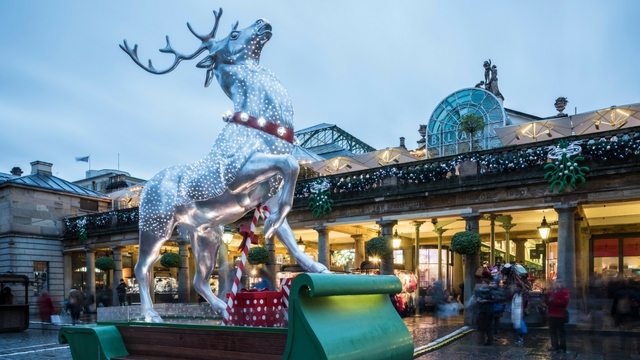 Another fantastically festive choice is Covent Garden, offering some of the best Christmas shopping and lights. Visit the Covent Garden Market to pick up those last few presents. There are three markets within Covent Garden's 19th Century Piazza, each offering a wide range of crafts, gifts and more.
While you're shopping, wander along the cobbled streets and admire the Covent Garden Christmas lights. The decorations include a 6.7-metre (22-foot) silver reindeer, 80,000 twinkling lights, an enormous Christmas tree and wreaths of mistletoe sparkling above the indoor market.
Just down the road from Covent Garden is Kingsway Hall hotel, who offer all-inclusive Christmas themed packages. They have 10 meeting spaces for capacities of up to 200 guests, as well as 170 rooms for a good night's sleep. Check out their special Christmas offer for your Christmas meal here.
Also just steps away from Covent Garden, you can stay or hold an event at the five-star hotel Rosewood London. They have a delicious Christmas menu on offer and a range of event spaces, including a stunning Grand Ballroom and historic boardrooms. Rosewood London are also running an exciting Mini Wishes campaign, where they will be traveling around the capital for the first 12 days of December collecting your wishes and spreading festive cheer.

London is the perfect place to join in the Christmas celebrations. With the city sparkling in lights, pop-up markets scattered all around and the famous Winter Wonderland, you will be spoilt for choice.
For more information or inspiration, or to discuss an event proposal contact the London & partners convention bureau team.