Interview with Martha Ortiz, Ella Canta's Chef Patron
London is a hub of culture and gastronomy, learn how new restaurant Ella Canta is bringing a unique taste of Mexico to London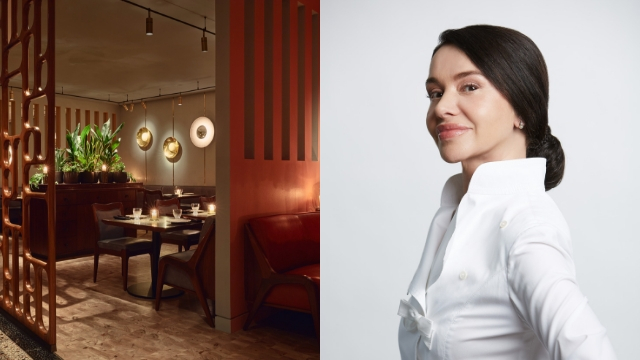 Transporting her unique blend of visionary artistry and authentic modern Mexican cooking to London, Chef Patron Martha Ortiz now has a home on Park Lane. Ella Canta (Spanish for 'she sings') draws inspiration from Martha's existing restaurant Dulce Patria in Mexico City, blending ancient cooking traditions with contemporary style.
We sat down with Martha to learn more about her inspiration and how Ella Canta can offer a unique dining experience for guests.
What is so special about your cuisine?
It's Mexican, it's feminine. People say it's sensual and very visual. There is a high contrast in flavours and it demonstrates that I am a female chef.
Where do you get your inspiration from?
I get my inspiration through arts. I adore exhibitions and beautiful paintings. I love opera so I love music, I love to read poetry, I love modern design, I love the design of clothing, so I am very world inspired. I like to look at other careers and other people who make beautiful things that I can learn from. 
Does Ella Canta have one or many signature dishes?
I think Ella Canta has several signature dishes that have come like a conquest from Mexico. We have Vampire Ceviche and the story behind this dish, we call it 'Vampire' because it's made with Sangrita. Sangrita is a perfect lover for tequila, so it's a perfect pairing for the ceviche. We have our duck with black mole that is one of the most magnificent and extraordinary signature dishes, when you try it, you taste the night, as I always say. So I think it's a menu with a lot of highlights, agua frescas, desserts, a modern take on tradition, a blend of old and new.
What private dining experiences does Ella Canta offer for groups?
I think Ella Canta is the perfect restaurant for an event. Why, because we are flexible, we can build experiences around Mexico, to try modern Mexico. I think people who enjoy this experience will learn a lot and have fun.
What typical meal, food and drink options would you recommend for a small private group?
I would recommend they need to try a tequila and mezcal, a good quality, just plain, straight, and then maybe a cocktail. I think we have beautiful selection of cocktails – they are fantastic. I will start with some antojitos, we call it overture, a little bit of overture. Then I will go with a very profound main dish, maybe a mole dish or perhaps Cochinita (pork) to try the magnificent achiote all over the meat and I will finish with a wonderful selection of desserts, and, for a smile, the Mexican sweets. So I think we are very, as I told you, flexible. We can build a menu for you.
Do you remember a particularly successful private dining group and what did participants appreciate the most about the food?
Yes, I have created a lot of private dining and special events in Mexico. What people enjoy very much is when we share, like a cooking class or a demonstration. We can share our margaritas and cocktails, how to make a guacamole, then the main dish, and people really enjoy working and learning and being hands on when it's Mexico and making tortillas and putting beautiful petals in the tortillas. I think when you interact, people adore it.