Host with us! Join the London city-wide tech festival
Taking place across London during 12-16 June is Europe's largest festival of live tech events - London Tech Week.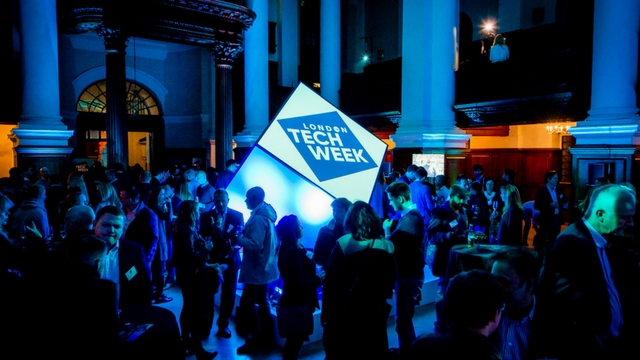 The week showcases and celebrates the very best of tech while providing networking, social, learning and business opportunities with the best minds on the tech scene. 
London Tech Week fuels innovation and strengthens London's status as global powerhouse of tech. No other festival brings together as many domestic and international tech start-ups, scale-ups and corporates to London for such a variety of events all geared to provide invaluable showcasing and business opportunities.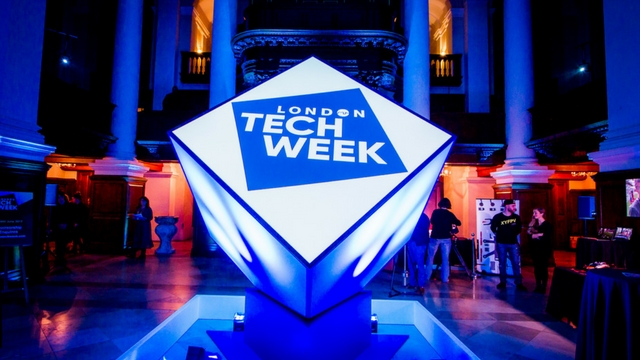 Hosting an event
You can register to host an event and be part of the most inspirational week in the tech industry calendar. London is widely regarded as one of the world's biggest and fastest growing tech hubs, attracting more investment than any other European city last year.

Hosting a tech week event is simple and by being part of the biggest ever London tech Week you can showcase your expertise and status in the sector. Events must take place in London between 12-16 June and be categorised in one of the six topic streams. The topic streams include talent and diversity, start up and scale up, innovation, business, digital disruption and security.
Three reasons not to miss hosting a London Tech Week event:
Be at the heart of a city-wide festival supported by the Mayor of London 
Meet with the entire tech community across all verticals, from start-ups to corporates
Take advantage of the strong platform from which to showcase your products & services, do business and attract talent
"London is a truly global tech hub, with a tech sector that sustains thousands of high quality jobs and an unrivalled pool of talented and creative people from all over the world. London Tech Week is a great opportunity to celebrate our ever-growing strength in tech, and the many fantastic entrepreneurs and innovators that help make our city the best place in the world to do business. I want London Tech Week to be Europe's top tech event in 2017, highlighting that London is open for business, new investment and global talent."  Mayor of London, Sadiq Khan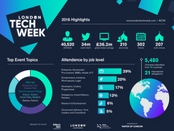 What's new for 2017
This year is set to be the biggest Tech Week yet with over 55,000 attendees expected, more than 300 standalone events and plenty of new events. The 2017 programme includes conferences, showcases and forums, compelling content, speakers and round-the-clock networking; plus, a greater opportunity for participation from start-ups, entrepreneurs, enthusiasts, students to corporates alike.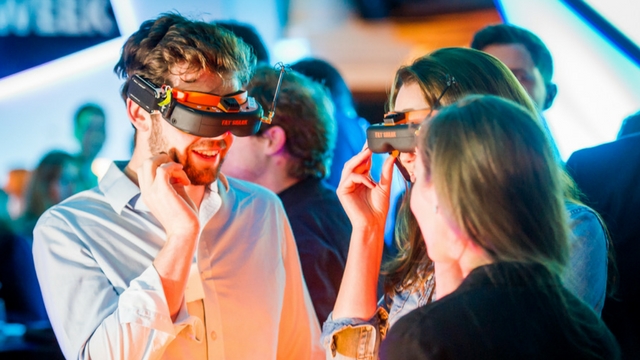 One of the biggest new events is TechXLR8. It brings together eight major shows under one roof at ExCeL London. Over the three days, 800+ speakers will participate in TechXLR8, covering a range of the hottest tech topics, including infrastructure developments (5G and Cloud), IoT and the connected world (Connected & Autonomous Cars, Smart Cities, Smart Home, Industrial IoT), and future tech (VR/AR, AI, Robotics, Drones, Blockchain). The speakers include leaders from the world of technology, government and business such as the likes of Michele Hanson, Chief Information Security Officer, Transport for London, and Antony Thomson, Founder, Metro Bank.

Another new event is The LeadersIn Tech Summit, an intimate two-day event that will bring together leaders and C-level executives from scales-ups to tech giants working in converging and contrasting areas of the digital industry.

As well as new events, this year also brings a new social programme including events such as: DRL Drone Racing, a festival Concert featuring Grammy and Oscar award winning film score composer Hans Zimmer, a Wrap Networking Party and more.
 
For more information about London Tech Week visit londontechweek.com

The London & Partners team can help you meet every tech event need you may have. For advice and information on hosting any event in London, contact the London & Partners convention bureau team.