London from Above – Rooftop Bars and Event Spaces
A selection of some of London's best rooftop bars and venues that you can hire out for an amazing summer reception.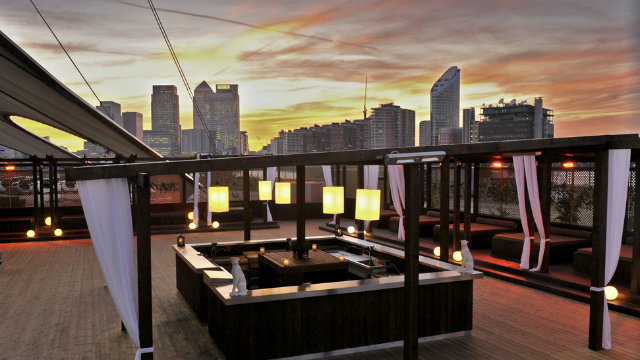 Summer has arrived in London, and with the warm weather come many opportunities to enjoy the outdoors across the city's unique spaces, from parks to canals, the river to the rooftops, and gardens to courtyards.
We've put together a selection of some of London's best rooftop bars and venues that you can hire out for an amazing summer reception.
Building Six
Building Six, The O2's club venue, has its own private outdoor terrace. In a building where most of the spaces are hidden under the canopy of the building's dome exterior, it's a pretty unique feature. With space for 700, it's perfect for summer cocktails and al fresco nibbles.
Boasting spectacular views of Canary Wharf, it is also directly linked to the main dance floor of the venue, so you don't have to leave your best moves far behind.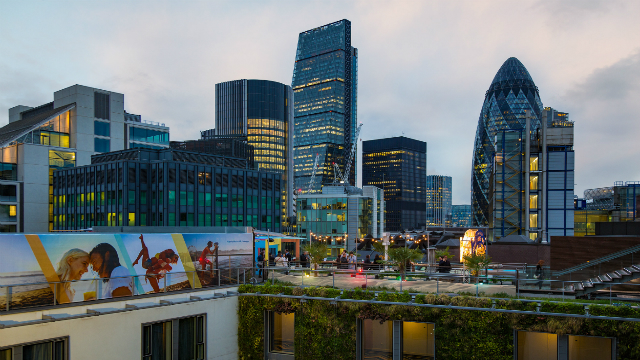 SkyLounge at the DoubleTree by Hilton – Tower of London
SkyLounge, one of London's most stylish rooftop bar and restaurants, welcomes its hotly anticipated summer residency; Santa Monica at SkyLounge.
The new pop-up offers a taste of laid-back Santa Monica living, overlooking some of London's most iconic landmarks.
Inspired by Santa Monica's vibrant cultural scene and oceanfront lifestyle, the pop-up transports guests away from the rush of city life to a relaxing retreat combined with Californian cool – making it the ultimate city spot to soak up the sun.
Notch at London Marriott Park Lane
Notch is a new rooftop pop-up located in the heart of central London, offering a peaceful retreat from the crowds of Oxford Street below. Perfect for after work drinks or sunny lunch breaks set against the backdrop of the city's rooftops.
With a secret entrance tucked away at the far end of Oxford Street near Marble Arch, just follow the staircase up to killer drinks, great food and relaxed vibes.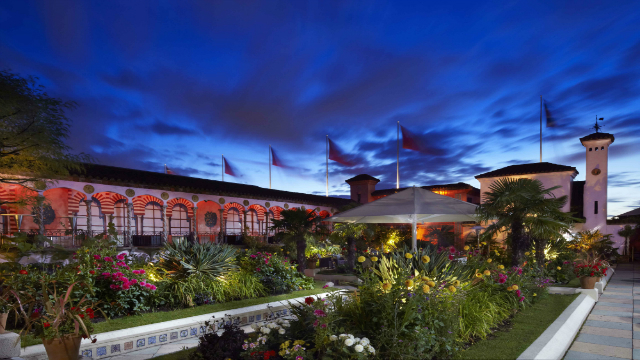 The Roof Gardens, Kensington
The Roof Gardens in Kensington has long been one of London's most spectacular and extraordinary landmarks. Set 100ft above London, The Roof Gardens comprises three gardens spanning 1.5 acres, featuring a range of fully grown oak and fruit trees, a flowing stream and an abundance of wildlife – including flamingos.
The Roof Gardens is an ideal venue for every special event, from dinners to discos, weddings to business meetings and even BBQs on balmy summer nights.
A private members club runs on weekends, and on the 7th floor with stunning views over London's skyline is Babylon Restaurant which offers an eclectic menu seven days a week.
Penthouse and Roof Terrace, Grand Connaught Rooms
Hire the Penthouse and Roof Terrace at the Grand Connaught Rooms and entertain a maximum of 80 guests against a backdrop of fabulous views of Covent Garden.
Ideal for an al fresco drinks reception, the terrace also has access to an art deco-style lounge. Your choice of catering includes canapés or hot and cold barbecue style buffets and a dedicated event manager can help you to create the perfect occasion, from the audio-visual accompaniment to your own bespoke entertainment.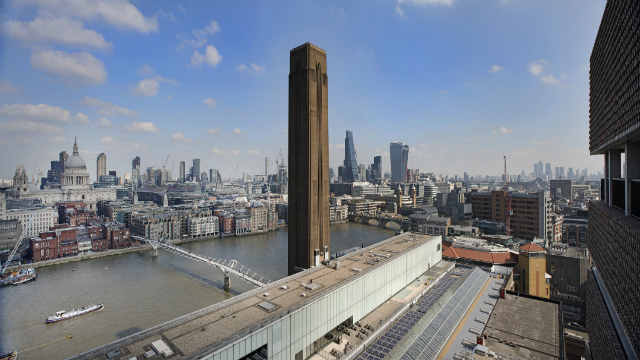 Level 10 Viewing Terrace, Switch House, Tate Modern
Breathtakingly impressive in design, this viewing terrace is located at the top of the new addition to the Tate Modern, opened in June 2016.
Boasting awe-inspiring 360ᵒ views of the London skyline, delegates can enjoy views of St Paul's Cathedral, Canary Wharf and The Shard. This light filled space with a beautiful external terrace is perfect for receptions for up to 150 guests and dinner for 80.
Interested in any of these spaces for an event? Contact our convention bureau team to find out more.