London event industry trends in 2017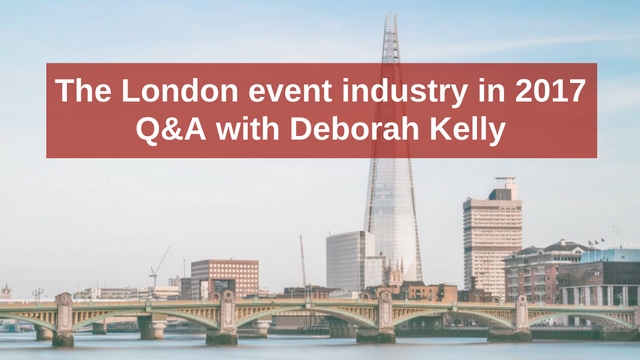 We caught up with Deborah Kelly, Head of UK Sales at London & Partners, to hear her thoughts about 2017 trends in the London events industry.
Q: What do you think will be the top 3 trends in the London event industry for 2017?

A: London's appeal to an international audience will continue to increase.  We are already seeing an increase in bookings from the US market. Event planners from the US are flocking to the capital to take advantage of the weaker pound, the amazing array of venues and creative event services, as well as the increase in delegates that London can often deliver. London Is Open for events and there is no doubt that London remains entrepreneurial, international and full of creativity and possibility.
Within the UK market, employee engagement in the workplace is of increasing importance given the global economic and political climate. Face-to-face interactions and time with staff are more valuable than ever before. Events which focus around staff engagement will continue to increase and London works well for this as it can cater to both business and leisure.
I also think the experiential industry will continue to flourish in 2017, with some of the key trends we have seen in the past year truly evolving and developing. Consumers are demanding more from brand experience activations, and brands are increasingly looking to develop human centric messages which embody their key messages. Improvements in data collection methods mean that activations can be personalised, localised and measured more effectively, which helps to create a more meaningful experience for the consumer and improved return on investment for the brand.
Q: What opportunities will be provided by the growing tech scene in 2017?

A:  London's growing tech scene provides an opportunity to open doors to new audiences. For example, trends such as livestreaming events allow people to participate in conferences or meetings that they are not able to physically attend. Modern technology creates connections like never before, as people from all around the globe engage with each other through social media, mobile phone applications and more.
Social media also provides an online platform where brands could engage with the audience in a new and different way in 2017, and could perhaps help expand the market. For example, Snapchat, which is popular among millennials, can be used to publicise events and involve the younger generation in various campaigns. With new technology, personal branding is easier than ever. Individuals, businesses and the like are able to create and share content via online media channels, encouraging the audience to start recognising and trusting the brand. 
Q: Are there any interesting sustainability projects to encourage more green events?

A: As 2017 is the UN's International Year of Sustainable Tourism for Development, it is increasingly important for London to host more sustainable events and support and encourage our partners and clients to do the same over the coming year. 
London is home to some of the world's most sustainable event venues, including The Crystal which operates entirely on solar power and ground source heat pumps. Recently arrived from Amsterdam to London is The Good Hotel, a floating hotel that upcycles various materials, connects with local businesses and uses natural resources to maintain the property. The Good Hotel also trains unemployed individuals in order to provide jobs and enable them to have a brighter future and is a truly unique event venue for up to 120 guests.
The UK's event agencies also lead the way in educating the event industry on hosting sustainable events. The Global Sustainable Events Summit (GSES), is held annually in London and late last year launched a piece of ground-breaking research having canvassed over 100 event professionals from global brands about their views on sustainability.
Q: What excites you about 2017 for the London events industry?

A: In 2017, we'll see a plethora of new hotels open – adding nearly 5,000 bedrooms to London's booming hotel scene. Just a couple of the exciting openings include the hotly anticipated Four Seasons Ten Trinity Square which will open in late January 2017 and The Ned Hotel set to open in the spring. 
This is in addition to new event spaces such as etc.venues new space at County Hall, the Design Museum in London's fashionable West End, and Christ Church Spitalfields in the thriving neighbourhood of Shoreditch.
In June, we'll see a bigger, better and bolder London Tech Week 2017. Last year we saw over 40,000 attendees from 70+ countries and more than 300 tech events available to take part in. The event will bring together entrepreneurs, students, corporates, start-ups and others to collaborate with the international tech community.
The industry is evolving at a rapid rate with new and exciting event agencies entering the market who are working with interesting and creative brands. Alongside this we are seeing larger agencies making acquisitions and merging at an unparalleled level, so it's certainly interesting times ahead in the events industry!