Top 10 Group Dining Spots in London
After a big event in London, you and your group will want to sit down and have a meal. Luckily, the city has a large number of fantastic group dining options in a variety of settings and locations. Here are ten group dining spots in London that will not only satisfy the stomach, but also expose your group to all that London has to offer.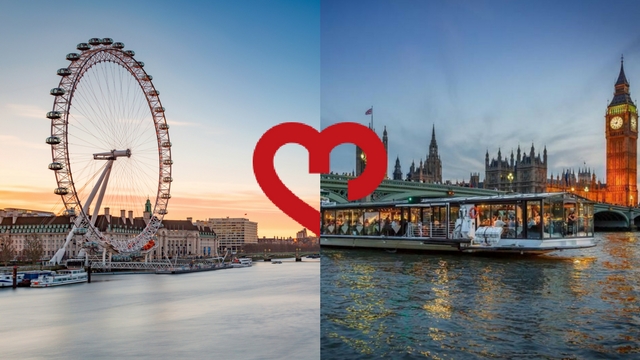 A Bateaux dining cruise along the River Thames provides you and your group with a stunning backdrop of some of London's most well-known sites. The night can be customized with Bateaux's classic, premier, signature, or platinum packages. The cruise is not only available for smaller groups of two or four, but also for large events or parties on the Harmony and Symphony vessels. These ships can accommodate up to 300 guests if booked in advance.

Boisdale offers classic blues, jazz, and soul music accompanying a selection of fine food, wine, and wide range of whiskies and Cuban cigars. The second floor of the restaurant offers four private dining rooms with beautiful views of London's skyline, perfect for dinners or working lunches with your group. The rooms accommodate anywhere from 12 to 40 guests, and must be booked in advance. Alternatively, the first floor, the second floor, or the whole venue can be rented out for up to 500 reception guests.

Cookery School believes in the value of learning to cook together, and for 13 years have delivered group cooking events in a relaxed and informal, yet professionally structured environment. You and your team can prepare a meal while simultaneously building teamwork and collaboration skills. Offerings include a choice of five delicious menus to make, and the option of the silver or the upgraded gold package.

The Coca-Cola London Eye not only offers some of the best views of London, but also has dining options for you and your group. The "Dining 135" package offers you and seven other guests a private capsule opened exclusively for you out-of-hours, with a three-course meal, champagne reception, and three rotations on the Coca-Cola London Eye with a ten-minute pause at 135 metres on the last rotation for photographs. For a larger group, the London Eye Barracuda river cruiser provides a catered meal along the River Thames with great views of the city for up to 230 guests.

The historic World War II warship HMS Belfast offers stunning views of Tower Bridge and the River Thames as well as event spaces you and your group can hire for an unforgettable dining experience. There are a variety of rooms in which to hold an event on the ship, from the small Admiral's Quarters (20 dinner) to The Quarterdeck (200 reception). Dishes are prepared on-board by an excellent team of chefs using the finest British produce.

Overlooking Trafalgar Square in Central London and containing some of the world's most well-known paintings, where better to entertain your group than at London's National Gallery? With eleven rooms to choose from in which to host your event and dedicated catering staff, your event at the National Gallery is sure to be a success.

SEA LIFE London Aquarium is certainly a unique place to bring your group to eat, but one that no one will forget. The dinner event package includes exclusive use of SEA LIFE London Aquarium, unlimited wine, beer, and soft drinks, and a three-course meal. In addition, the space includes a glass-bottom floor where sharks swim below upon entrance, a glass ocean tunnel where guests can spot turtles and stingrays swimming around them, and during the event, you and your colleagues can watch a dive in the shark tank performed by the SEA LIFE London diving team.

Sky Garden is London's highest public garden. Located 155 metres above the city, Sky Garden not only offers a gorgeous skyline view, but also provides the perfect space for dining with your group. Two spaces are available for hire: the whole garden, which can hold up to 750 reception guests, or City Garden, a dedicated event space, which can hold up to 250 reception guests. Each event space has specific catering packages to choose from which range in price. Also included in the package is a dedicated planner who will ensure that every detail for the evening is taken care of.

Swan, Shakespeare's Globe is located next to the iconic Shakespeare's Globe Theatre, overlooking the River Thames and Southbank. There are a variety of spaces which are available for you and your group, including the Bull Room or River Room, which can hold up to 40 guests for lunch or dinner, or the Snug, holding up to 30 for drinks. A three-course menu of traditional British food is served.

As a well-known historical building, having a group meal in Westminster Abbey is an experience so unique to London. The Abbey provides five rooms of differing sizes and settings to accommodate either a smaller, more intimate group or a larger gathering of up to 500 people. It is your choice of one of thirteen suppliers affiliated with Westminster Abbey to cater the event.