Top 25 incentive activities in London
Give your guests an authentic London experience they won't forget.
London is the perfect location for a unique and iconic incentive package. Fantastic dining options, action-packed trips or classic sightseeing spots – the capital offers a huge variety of exciting and diverse group activities to impress your attendees. Here's our pick (in no particular order) of the top things to do in London that are certain to leave a lasting legacy.
1. Up at The O2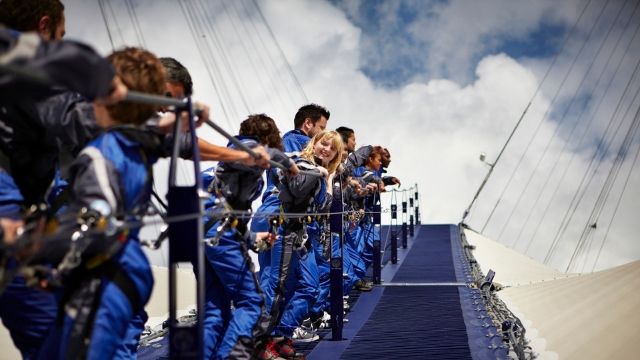 Hit the heights with Up at The O2 – an exhilarating experience that takes you on a guided expedition over the roof of the The O2, London's iconic, dome-shaped state-of-the-art arena. Get your blood pumping with the spectacular 360-degree view of London.
2. ZSL London Zoo
Tour ZSL London Zoo and see some of the world's most fascinating animals and other attractions, including the Tiger Territory and Penguin Beach. The Zoo also offers treasure hunts and fun activities to delight and excite attendees.
3. Sadler's Wells
Take your guests to an evening show at Sadler's Wells, a famous theatre in the arts sphere and home to an impressive line-up of local and international dance talent. Treat attendees to a private pre-show or interval drinks reception alongside shows spanning flamenco and ballet to hip hop.
4. Bateaux London
Hop on board of one of Bateaux London's glass-sided boats and take a trip through the heart of England's capital. Sail along the river Thames while you enjoy delicious food, amazing views and great live entertainment for an unforgettable dining experience.
5. SmallcarBIGCITY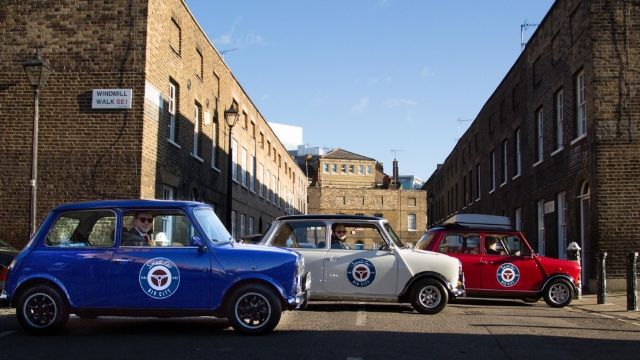 Spend the afternoon in a fleet of classic mini coopers made for exploring the city with SmallcarBIGCITY. Take a tour in one of the eight vintage minis and feel like a local while discovering London's famous landmarks and hidden gems.
6. The Coca-Cola London Eye
Spoil your guests and hire a private capsule to take a spin on the iconic London Eye while enjoying an exclusive dining experience. Experience some of the best views of the city and its fantastic landmarks with a champagne reception.
7. Boisdale Canary Wharf
Enjoy a private dining experience with beautiful views of London's skyline at Boisdale. The venue offers classic blues, jazz and soul music accompanying a selection of fine food, wine, and wide range of whiskies and Cuban cigars – perfect for dinners or working lunches.
8. Cookery School
Learn how to prepare a whole menu with your team while building your teamwork and collaboration skills at the same time. Cookery School believes in the value of learning to cook together and has designed group cooking events in a relaxed, professionally structured environment. 
9. HMS Belfast
Hold an event at the historic World War II warship HMS Belfast, offering stunning views of Tower Bridge and the river Thames and an unforgettable dining experience. All dishes are prepared on-board by an excellent team of chefs using the finest British produce.
10. Afternoon Tea at St James's Hotel and Club
Immerse in the stylish surroundings of St James's Hotel and Club with a classic British tradition and indulge in the luxurious sweet treats, sandwiches, tea and champagne. The historically themed experience features highlights from the Victorian times.
11. SEA LIFE London Aquarium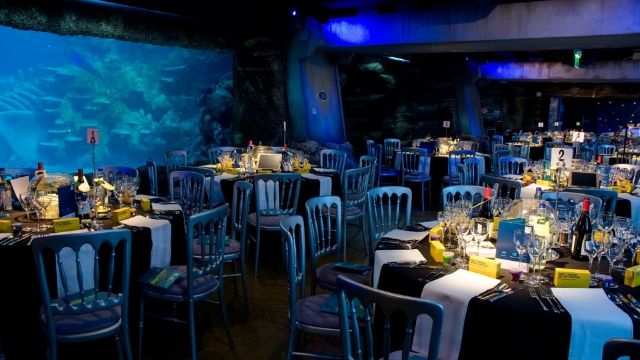 Bring your delegates to a unique dinner destination at SEA LIFE London Aquarium with unlimited drinks and a three-course meal. Spot the fascinating underwater-life through the glass-bottom floors and be surrounded by sharks, turtles and stingrays swimming around you and your colleagues.
12. Sky Garden
Embrace London's highest public garden, located 155 metres above the city. Sky Garden offers a gorgeous view, making it easy to spot all the iconic landmarks from a different perspective, and provides the perfect space for group dining.
13. Shakespeare's Globe
Visit the iconic Shakespeare's Globe and catch a view over the river Thames. From exciting performances to an exhibition tour through the historic theatre, the Globe has a variety of quality options to choose from.
14. Westminster Abbey
Spend time in Westminster Abbey, a must-see piece of British history. The Abbey provides five rooms of differing sizes and settings to accommodate smaller, more intimate groups or a larger gathering if required.
15. City Academy
Entertain your group with unique classes from City Academy. All activities are rooted in performance and creative arts and are tailored to bringing teams together. Classes include an improv-battle, team dance, Shakespearean acting and much more. 
16. ArcelorMittal Orbit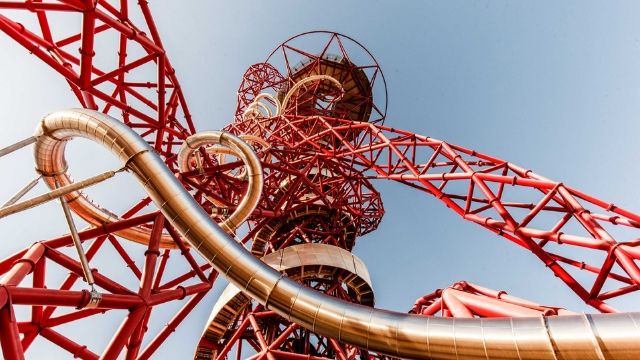 Challenge your guests to ArcelorMittal Orbit, the highest and longest tunnel slide in the world, located at the Queen Elizabeth Olympic Park. The 40-second ride down the slide is a hair-raising experience that will satisfy the adrenaline junkies in the group.
17. Beefeater Gin Distillery
Get to know the gin-making process with the history of London and choose between the distillery tour or the VIP experience for your group. The gin at Beefeater Distillery is hand-crafted in London with a recipe that has remained unchanged since the 1800s. 
18. Blue Badge Tours
Expand your knowledge and learn some fun facts about London with tours to major London sites, neighbourhoods or movie locations like Harry Potter, James Bond or Sherlock Holmes. Blue Badge Tours also offers excursions outside of London to locations like Stonehenge and Oxford. 
19. Musical theatre performances
Take advantage of some of the most well-known musicals such as The Lion King, Les Misérables and Wicked playing in the world-renowned West End. With many tickets for sale at discounted prices, your group can experience world-class live performances.
20. MBNA Thames Clippers
Travel along the river Thames with MBNA Thames Clippers and rent one of the boats for private hire for a great night out in London. The boats can hold anywhere from 12 to 220 passengers and can be tailored to specific requirements.
21. The London Bridge Experience
Discover all the secrets that lie beneath the famous London Bridge with an immersive theatrical experience bringing together history, horror, education and fun. The London Bridge Experience has been recognised as the winner of the "UK's Scariest Attraction" and "Best Guided Tour".
22. May Fair Hotel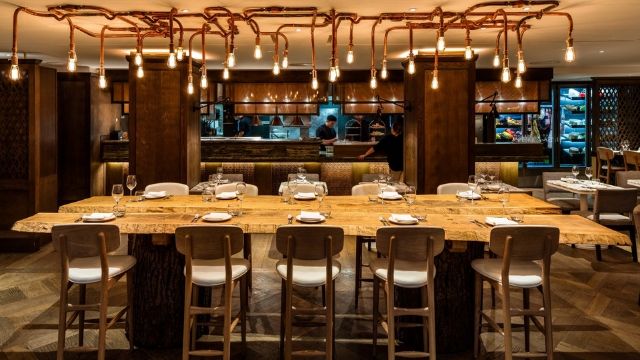 Dine in relaxed luxury at the five-star Radisson Blu Edwardian May Fair Hotel which is situated in one of London's most prestigious districts and whose bold and lavish design makes it truly a one-off – perfect for an incentive trip.
23. British Museum 
Visit the British Museum, one of London's top 10 museums, for a private tour around the world in 90 minutes, through some of the exhibition highlights and a spot for lunch under the magnificent roof of the Great Court Restaurant. 
24. Big Bus Tour
Hop on one of London's Double Decker tour buses and take in some of the capital's most famous landmarks while pausing on the South Bank to take flight on the Coca Cola London Eye. Get a free walking tour included with your bus ticket.
25. Covent Garden Theatre
Wander around Covent Garden and take in the impressive sights and sounds of this theatre district. Once you've seen the street art, choose from a wide range of plays or musicals from around 20 venues in the vicinity or indulge in a performance at The Royal Opera House.
How we can help
As London's official convention bureau, we know the city like no one else, from its hidden treasures to its newest experiences. Contact us to help you put together an incentive programme and introduce you to London's very best venues, services and incentive providers.