Why London for medical meetings
London: where medical history and cutting edge science technology meet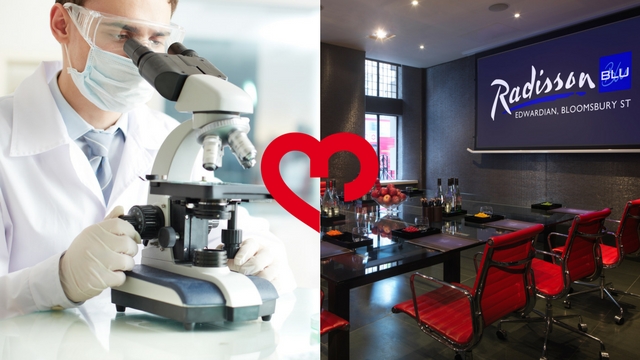 Where better to host your medical meeting than in the heart of world-leading life sciences expertise? With centuries of ground-breaking medical history and billions of investment in future health discoveries, London is the perfect environment to host your next event.
Together with Oxford and Cambridge in the Greater South East, London boasts four of the world's top 10 universities, the biggest talent pool for life science in Europe and thousands of researchers working in new ways and in new buildings all over the city. 
Inspirational speakers, impressive venues and industry-relevant cultural activities are all at your fingertips in London. Whether it's a one-day conference or a multi-day congress you're planning, we can help you choose from a diverse range of venues.

Exciting new additions such as MedCity and the Francis Crick Institute complement historic event spaces such as the Royal College of Physicians, BMA House and 1 Wimpole Street which is part of the Royal Society of Medicine building.
"Only in London could we have taken advantage of such a strong network of institutions and expertise, providing a level of input that matched our audience. I was delighted."
James McGough, Portfolio Director, Clarion Events
And for all those needing to abide by the UK ABPI code, we have a wealth of venues with the knowledge and experience to deal with all of your compliance requirements behind the scenes, ensuring the city provides a world-class infrastructure for your medical meeting.
With over 153,000 hotel rooms, a third of which are four-star, there will be a style and location to suit every budget. Radisson Blu Edwardian Hotels have prime locations in central London and Heathrow which can serve as both accommodation and venue space.
The hundreds of direct flights worldwide each day and the constant transport improvements, including the new Elizabeth Line, are making connectivity from outside the country into the centre of the city smoother and quicker than ever before.

Need DMCs, EMCs or PCOs for ground support? Our in-house team can guide you every step of the way, free of charge.

All this and more are reasons why London is chosen as the perfect destination for events such as the European Society of Cardiology's (ESC) annual congress. After successfully hosting over 35,000 delegates for five days in 2015, it returns to ExCeL London in 2021.
"ESC congress choosing to return to our city really is an endorsement of the Mayor's plan to help improve the health of Londoners and of the capital's expertise in medical research. This is also a great vote of confidence in the city's ability to organise and host a high-profile, very large-scale congress, following the incredibly successful 2015 event."
Tracy Halliwell, Director of Business Tourism and Major Events, London & Partners
Latest facts, figures and developments in Life sciences
19 out of the top 20 global pharmaceutical companies can be found in London and the Greater South East.
Four of the world's top 10 universities are based here.
The region offers an ideal base for clinical trials with a highly diverse patient population of over eight million, served by the National Health Service.
The area boasts the largest life sciences human resource pool in Europe.
The Francis Crick Institute: a £650m biomedical facility, opened by the Queen in 2016 provides space for 1,500 scientists in 120 research groups to find new ways to treat, diagnose and prevent 21st century health issues.
The Cube at Londoneast: cutting edge R&D facility in Dagenham for small and growing companies, with access to specialist laboratories and technical support.
Queen Mary University of London Life Sciences Institute: A new project to develop and test a talking-based therapy for cancer survivors, led by Queen Mary University of London (QMUL), Barts Health NHS Trust and King's College London, has been awarded £2.5m by the National Institute for Health Research.
White City Campus: Imperial College London's major new 25-acre campus in West London is co-locating researchers, businesses and educational partners to create value from ideas including the Michael Uren Biomedical Engineering Research Hub. Due to open in 2019, over 500 engineers, clinicians and scientists will develop new and affordable medical technologies at the building.
UCL East: due to open in 2018 on the Queen Elizabeth Olympic Park. To include UCL Innovation, a series of incubators focused on commercialisation of biological devices, wearable sensors for health monitoring and technologies to promote wellbeing.

Medical Meetings Guide 2018
PDF - 6.8 MB
Find inspiration for your next medical meeting in London
View Download
Contact us to discuss how to bring your event ideas to life in London.