Business Venues with a View in London - Convention Bureau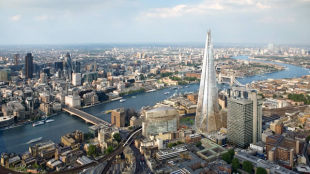 Choose one of London's many meeting rooms and venues with a view, and let the city's skyline captivate your delegates. From green parks and riverside views to futuristic cityscapes, viewed from the air, London's architecture takes on a new dimension - the perfect setting for your visit.
Tower Bridge has stood over the river Thames since 1894, enchanting admirers with its beauty and elegance. Tower Bridge houses four exquisite and unusual venues.

Dating back to the reign of Henry VIII, this is amongst the world's finest palaces specifically built to entertain and impress. Follow in Henry's footsteps and entertain your guests royally.

Premium Member

Entertaining at Cutty Sark is a truly unique and exclusive experience, with four superb locations for evening events including Under the Hull, with the 963 tonne ship suspended above your head.

Premium Member

With amazing views of London, and the World's longest tunnel Slide, the ArcelorMittal Orbit is a prime destination for any occasion. Our events team will make your event as unforgettable as the view.

Located on the 6th Floor at 2 More London Riverside, the Tower Room offers stunning views and the versatility to accommodate a variety of events, from conference, theatre and cabaret-style meetings to corporate events, receptions, product launches and workshops.

Partner

A Bateaux London dining cruise through the heart of the capital on the river Thames provides a stunning backdrop for your event, unrivalled by any other venue.

Premium Member

HMS Belfast, part of Imperial War Museums, tells the stories of life on board this warship during the Second World War and beyond and features various unique function rooms available for hire.

Premium Member

The river Thames is one of the most important waterways in the world, and the home of Thames Clippers riverboat service.

Premium Member

The Old Royal Naval College is ideally located in London's Zone 2, just 20 minutes from London Bridge and offers an abundance of transport links as well as a range of excellent venues.

Premium Member

Bustronome is a unique concept, where guests enjoy fine dining as they pass some London's major landmarks on board a glass-roofed bus.

Member

The London Eye is one of the most visually dramatic additions to London's skyline and the perfect venue for any occasion. Entertain guests with ...

One of London's most iconic and flexible venues, Alexandra Palace can host all types of experiences, indoor and outdoor, with a capacity of 100 to 10,000 people.

Premium Member

Hold your events in spectacular, versatile rooms with masterpieces adorning the walls.

Premium Member

The National Maritime Museum is a harmonious meeting of classical 19th century grandeur and innovative modern architecture perfect for large awards dinners, receptions, product launches and tours.

Premium Member

Raise your corporate profile to new levels. Invite your guests to The Gherkin's iconic glass and steel dome, and you'll understand why brands and businesses thrive in the skies above London.

Premium Member

Luxury yachts available for 8 to 40 passengers on the River Thames for private corporate events - catering ranges from buffet to Michelin grade chef.

Member

With exposed brickwork and views of the London skyline, this venue is the perfect setting to give your corporate event an edgy feel.

Premium Member

Set sail on Merlin Entertainments newest venture, The Barracuda! Designed with you, the event organiser in mind, the Barracuda's retractable roof allows you to ...
Borough Market
Browse more than 100 stalls filled with gourmet food, including delicious cheeses and beautiful patisseries at Borough Market.
British Library
The British Library offers a range of exhibitions, some of them free. The Treasures Gallery tells the remarkable story of over two thousand years of human experience. The British Library also runs a lively events programme.
British Museum
Visiting the British Museum in London is free. It's one of the greatest museums in the world!
Camden Lock
Camden Lock is one of London's most vibrant shopping and entertainment areas. And with live music and comedy venues, café's and bars it's a brilliant place.
Covent Garden Market
Once home to the world-famous fruit and vegetable market, Covent Garden's Apple Market continues to support market traders, offering a range of unique handmade crafts and goods throughout the week.
Harrods London
Harrods continues to astonish and intrigue customers from around the world with first-class service, retail theatre and product quality, not to mention an unmatched international brand selection
Houses of Parliament
Inside one of London's most iconic buildings: tours of UK Parliament offer a unique combination of 1,000 years of history, modern day politics and stunning art and architecture.
Hyde Park
Hyde Park is one of the greatest city parks in the world. Covering 142 hectares (350 acres) with over 4,000 trees, a large lake, a meadow and ornamental flower gardens.
Kensington Palace
Explore the palace that once housed Queen Victoria and is now home to the Duke and Duchess of Cambridge.
Museum of London
The Museum of London tells the story of the world's greatest city and its people, from prehistoric times to the present day.
Natural History Museum
The Natural History Museum is a world-leading visitor attraction and science research centre. It is the most visited natural history museum in Europe, welcoming more than five million visitors each year.
Notting Hill and Portobello Road Market
Famous street market with stalls offering everything from fruit and bread to posters, vintage clothes, ceramics and music.
Queen Elizabeth Olympic Park
New green spaces and the ArcelorMittal Orbit at Queen Elizabeth Olympic Park are the latest attractions to reopen to the public for the first time since the London 2012 Olympic and Paralympic Games.
Science Museum
Interactive and thought-provoking, the Science Museum is a great place to see, touch and experience science first-hand. From space travel to IMAX, there's something for all the family. Free entry.
Selfridges & Co
Selfridges is one of the world's finest department stores. From high fashion to hi-fi, wardrobe co-ordination to wedding lists, it's every shop you'll ever need.
St Paul's Cathedral
Plan a visit to the iconic St Paul's Cathedral and discover the awe-inspiring interior and facinating history of this London landmark.
Tower Bridge
Explore this iconic London landmark.
Victoria and Albert Museum
See fashion, furniture, photographs, jewellery, metalwork, sculpture, paintings and more at the V&A, the world's leading museum of art, design, and performance.
ZSL London Zoo
Enjoy a great day out that makes a real difference. There's nothing quite like life at the zoo. Unrehearsed, unexpected and unbelievable.
BAA Plc - Corporate Office
The following airports are subsidiary companies of BAA Plc: Heathrow, Gatwick, Stansted, Glasgow, Edinburgh, Aberdeen and Southampton.
Gatwick Airport
Gatwick Airport is south of London. It takes 30 minutes by direct train to travel from Gatwick Airport to central London.
London City Airport
Located six miles from the City of London and two miles from Canary Wharf, London City Airport is the obvious airport for travel to and from London for business and leisure.
London Luton Airport
London Luton Airport is one of London's major airports. The airport has fast connections to central London by train and coach.
London Stansted Airport
London Stansted Airport is the UK's third largest airport, handling 20 million passengers.
Clapham Junction Railway Station
Visit London's busiest railway station.
Kingston Railway Station
Trains run between Waterloo station in London and Shepperton, Surrey via Kingston.
Norbiton Railway Station
Travel to central London and south west London destinations from Norbiton.
Watford Junction Railway Station
Use Watford Junction Station to travel to Warner Bros. Studio Tour London.
London Waterloo Station
Waterloo Station is a major railway and underground station in London. Waterloo Station is near many tourist attractions including The London Eye, The South Bank and County Hall.
Charing Cross Railway Station, London
Charing Cross Station is a major railway and underground station in London. The station is in central London and close to Embankment, Covent Garden and The Strand.
Euston Railway Station, London
Euston Station is a major railway and underground station in London. The station is in central London and close to Kings Cross, Regent's Park, Somers Town and Bloomsbury.
Fenchurch Street Railway Station, London
Fenchurch Street Station is a railway station in the City of London. It was the first station to be built in the City.
King's Cross Railway Station, London
King's Cross Station is a major railway and underground station in London. The station is in central London and close to Kings Cross, Regent's Park, Somers Town and Bloomsbury.
Liverpool Street Railway Station, London
Liverpool Street Station is a major railway and underground station in London. The station is in central London and close to The City, Shoreditch, The Barbican and Whitechapel.
London Bridge Railway Station
London Bridge Station is a major railway and underground station in London.
Paddington Railway Station, London
Paddington Station is a major railway and underground station in London. The station is in central London and close to Bayswater and Marylebone.
Alain Ducasse at The Dorchester
Enjoy a special meal at this three Michelin starred restaurant in one of London's most iconic hotels.
Alyn Williams at The Westbury
Amaya
Enjoy the theatrical open kitchen at this acclaimed Indian restaurant in Belgravia.
Aquavit London
Discover the best of contemporary Nordic cusine at this stylish eatery near Piccadily Circus.
Barrafina
Enjoy great Spanish tapas in this Michelin-starred restaurant.
Brat
Indulge in British food with a subtle Spanish influence at Brat.
Céleste
In the spectacular Lanesborough Hotel, Céleste offers French fine dining to match the sophistication of the setting.
Chez Bruce
A Michelin-starred French restaurant opposite the green space of Wandsworth Common in London
City Social
Enjoy spectacular skyline views from this elegant restaurant in the heart of London's financial district.
Claude Bosi at Bibendum
Experience fine-dining in grand surroundings at this restaurant in South Kensington.
The Clove Club
Take your time to savour dishes from an extensive tasting menu.
Club Gascon
Club Gascon offers a menu of mouth-watering selections. Inspired by the gastronomy of the chefs' native South-West France.
Core by Clare Smyth
Experience acclaimed chef Clare Smyth's impeccable cuisine at her first solo venture, in Notting Hill.
Da Terra
Savour modern European fare inspired by Latin American flavours in the sleek surrounds of Bethnal Green's Town Hall Hotel.
The Dining Room at The Goring
Walk into the beautiful The Goring hotel and sit down for breakfast, lunch or dinner at The Dining Room at The Goring.
Dinner by Heston Blumenthal
Discover classic British recipes with a modern twist at Heston Blumenthal's restaurant near Hyde Park.
The Dysart Petersham
Dine on modern takes on clasic combibatons at this family-run restaurant near Richmond Park.
Elystan Street
Dine on tasty classic British dishes in Chelsea.
Endo at The Rotunda
Indulge in top quality sushi from a leading sushi master at this chef's table restaurant in west London.
The Five Fields
Tuck into tasty British fare at The Five Fields in Chelsea.
Galvin La Chapelle
The third London restaurant run by Jeff and Chris Galvin, this elegant restaurant is set beneath a magnificent vaulted ceiling. Serving up sophisticated modern-French dishes to match its grand setting, La Chapelle gained a Michelin star in 2011, only a year after its opening.
The Glasshouse
The Glasshouse has been a Michelin-starred restaurant since 2002.
The Greenhouse
Luxurious French cuisine in a discreet setting in Mayfair.
Gymkhana
Gymkhana restaurant and bar in the heart of Mayfair has a modern Indian menu with a focus on the tandoor oven and sigri charcoal grill.
Hakkasan
Hakkasan Hanway Place is the original Hakkasan restaurant.
Hakkasan Mayfair
Opened in November 2010, Hakkasan Mayfair is the second London edition to the acclaimed Hakkasan brand.
The Harwood Arms
A rural haven in the middle of Fulham, the Harwood Arms provides diners with a really relaxed venue for eating the finest British produce, cooked amazingly well, accompanied by excellent beer and wine at a great price.
Hélène Darroze at the Connaught
Located in the Connaught, one of London's most legendary hotels, Helene Darroze's elegant and stylish restaurant has two coveted Michelin stars.
Hide
Fine dining with a view at Hide.
Ikoyi
Enjoy innovative dishes at this stylish West End eatery.
Kai of Mayfair
Voted the 'Best Chinese' in London by Harden's Guide 2009, Michelin starred, Kai Mayfair combines warm and attentive service in surroundings that whisper luxury- perfect for 'romance or business'
Kitchen Table
Discover an exclusive dining spot at the back of hot dog and champagne eatery Bubbledogs on Charlotte Street.
Kitchen W8
Kitchen W8 opened in October 2009 in Kensington and gained a Michelin star in 2011. The space has been designed with comfort in mind and the food and wine are guaranteed to revive your spirit.
La Dame de Pic
Be treated to a contemporary take on fine French cuisine by a Michelin-starred chef.
La Trompette
Sample the finest French fare at La Trompette.
The Ledbury
The Ledbury opened in 2005, with Brett Graham as head chef, supported by a young and energetic team including sous chef Greg Austin, and restaurant manager Darren McHugh. The restaurant has gained many accolades including the much-coveted second Michelin Star.
Le Gavroche
Acclaimed for its high-end and formal French dining, two-Michelin-starred Le Gavroche is headed by Michel Roux Jnr.
Leroy
Thoughtful food is the order of the day at Leroy.
Locanda Locatelli
The atmosphere is both intimate and social depending on where you are seated at this Italian institution.
Lyle's
Walk into Shoreditch's Tea Building and take a seat at Michelin-starred Lyle's.
Maos
Enjoy an intimate experience at the brainchild of leading chef Nuno Mendes.
Marcus
One of London's most acclaimed restaurants, Marcus combines two-Michelin-starred cooking with a relaxed, contemporary space.
Murano
Set in the heart of Mayfair, one Michelin-starred Murano restaurant is the home of renowned chef Angela Hartnett. Cuisine is modern European with a strong Italian influence reflecting Angela's heritage.
The Ninth
Enjoy a taste of the south of France at this small plates restaurant in Fitzrovia.
Petrus
Gordon Ramsay's successful award-winning London restaurant Petrus in Knightsbridge offers a modern European menu.
Pied a Terre
Pied à Terre is an independently owned West End gastronomic restaurant located in the heart of Fitzrovia.
Pollen Street Social
Jason Atherton's Michelin-starred restaurant serves modern British food with international influences. The menu has been designed for maximum flexibility, with a wide choice of snacking plates.
Portland Restaurant
Award-winning Portland serves simple, carefully prepared food.
Restaurant A. Wong
Explore China's culinary heritage at this Michelin-starred restaurant in Victoria.
Restaurant Gordon Ramsay
Restaurant Gordon Ramsay is the flagship of the Gordon Ramsay Group. Established by Gordon Ramsay in 1998, the restaurant has held three Michelin stars since 2001.
Restaurant Story
Chef Tom Sellers has transformed an old toilet block in Bermondsey into a Michelin-starred restaurant with an adventurous menu.
The Ritz Restaurant
The magnificent Ritz Restaurant is one of the most beautiful dining rooms in the world, and it leaves an indelible impression on all who dine there.
Roganic
Enjoy fresh, imaginative dishes at Roganic.
Sabor
Embark on a culinary journey across Spain at Sabor.
Seven Park Place by William Drabble
Sketch: Lecture Room & Library
Conceived by French master chef Pierre Gagnaire and restaurateur Mazouz, Sketch has attracted unprecedented media attention since it opened in 2002.
Social Eating House
Set in Soho, Social Eating House serves bistro-style food in a relaxed yet modern environment.
The Square
Treat yourself to a fine dining meal at this elegant Mayfair hotspot.
St John Restaurant
St John restaurant and bar is a British restaurant which specialises in nose-to-tail eating – using traditional recipes to serve up offal and other cuts of meat less commonly found on a menu.
Texture
Texture offers modern fine dining, contemporary decor and the most extensive champagne list in London, matched by the most creative dishes with a light touch.
Trinity
Discover delicious Michelin-starred food in Clapham Old Town.
Trishna
Discover the coastal cuisine of south west India in this Michelin-starred Marylebone restaurant.
Umu
Umu serves timeless Japanese cuisine in the heart of Mayfair.
Veeraswamy
Situated in a prime location overlooking London's Regent Street, Veeraswamy has been offering the finest classical Indian cuisine since 1926. As the first of its kind, it is celebrated as the Grand Dame of Indian restaurants, known for its refined cuisine & opulent Raj-inspired style.