Action-packed, authentic incentive ideas
Give your guests an authentic London experience they won't forget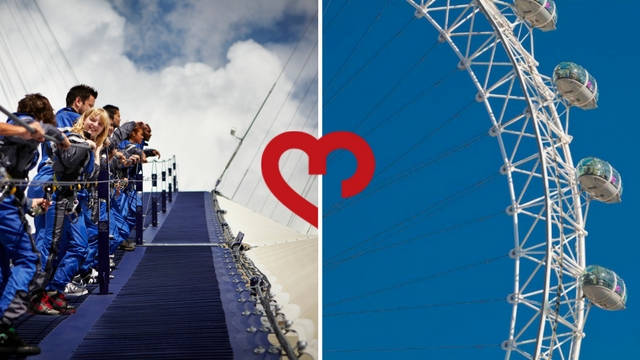 We know that with incentives, content is key. Those lucky enough to earn a place on an incentive trip expect one-of-a-kind experiences and a chance to immerse themselves in the culture of the destination they visit.
With such a vast amount of things to see and do in London we've put together a couple of suggested itineraries to help give you a flavour of the different incentives you could create with ease in this incredible city. Give your deserving guests a taste of the iconic with a hint of hidden London for an authentic experience they won't forget.
A small incentive trip
5-10 people
Fly in
Fly into one of London's six international airports from one of hundreds of destinations throughout Europe and beyond. Head towards leafy Greenwich in East London.
Up at The O2
Hit the heights with Up at The O2 an exhilarating experience that takes you on a guided expedition over the roof of the The O2, London's iconic, dome-shaped, state-of-the-art arena. Get your blood pumping and get a spectacular 360-degree view of London.
Bateaux London
Hop on board one of Bateaux London's glass-sided boats and take a trip through the heart of Britain's capital. Sail along the River Thames while you enjoy delicious food, amazing views and great live entertainment for an unforgettable dining experience.
Oxford Street and St James Hotel and Club
A quick trip in one of London's world-famous black cabs and you're in Europe's premier shopping destination, Oxford Street. Shop 'til you drop, then it's time for afternoon tea in the stylish surroundings of St James' Hotel and Club.
May Fair Hotel
It's a short walk to the five-star Radisson Blu Edwardian May Fair Hotel which is situated in one of London's most prestigious districts, and whose bold and lavish design makes it truly a one-off. Dine in relaxed luxury as you reflect on a wonderful day.
A medium incentive trip
10-20 people
Make the journey part of the experience
Travelling in style will set the perfect tone for your incentive trip to London. Build the group spirit from the start by booking a whole coach – and for an extra-special touch, you can even personalise the outside with bespoke branding.
Radisson Blu Edwardian, Bloomsbury Street and British Museum
On arrival into the breath-taking London St Pancras Station it's a cab ride to drop off luggage at the elegant Radisson Blu Edwardian, Bloomsbury Street before a short walk to one of London's top 10 museums for a private tour around the world in 90 minutes through some of the exhibition highlights and a spot of lunch under the magnificent roof of the Great Court Restaurant.
Big Bus Tour
Hop on one of London's Double Decker tour buses and take in some of the capital's most famous landmarks pausing on the South Bank to take flight on the Coca Cola London Eye.
Coca Cola London Eye
The view of London at sunset from your very own glass pod in the sky on the world's largest observation wheel is a great experience – only made better with a glass on champagne in your hand for the 30-minute ride!
Covent Garden Theatre
Jump on the Tube to take you into the heart of Covent Garden to experience the unique sights and sounds of this Theatre district. Once you've taken in the street art, choose from a wide range of plays or musicals from one of around 20 venues in the vicinity or indulge in a performance at The Royal Opera House to finish of the evening in a truly spectacular setting.
Top tip
Don't forget to include opportunities to make the experience shareable with social tech. Hash tags and photo walls will not only be beneficial for relationship-building of the group involved but will inspire others to work harder for the next incentive!