The inside track on Crossrail and what it will mean for event planners
Caroline Metcalf, Project Manager, Bond Street station explains how Crossrail will become an 'events super highway' opening up the options to event planners choosing London.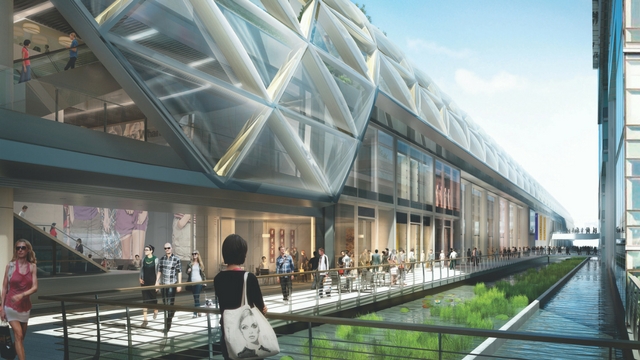 What is Crossrail and why does London need it?
Crossrail is one of the largest infrastructure projects in Europe. We're building a new railway which will be known as the Elizabeth line when it opens through central London in December 2018.
When it's finished, it's going to be an accessible route of 40 stations from Reading and Heathrow in the west to Shenfield and Abbey Wood in the east. It's going to increase central London's rail capacity by 10 per cent, reduce journey times and bring an additional 1.5 million people within 45 minutes of London.
London's a truly world-class city and this project is part of the UK's plan to maintain that by growing and constantly improving the transport available for residents, commuters and visitors.
When does the Elizabeth line go live?
The Elizabeth line is opening in stages from December 2018 and is due to be fully up and running by December 2019.
What is the greatest advantage of the Elizabeth line for event planners looking to bring an event to London?
The Elizabeth line is going to increase transport choice for passengers and reduce journey times. For example, when it's fully operational, it will only take 26 minutes to travel from Heathrow to the West End, 34 minutes to the City of London and 40 minutes to Canary Wharf.
Customers are really going to benefit from the new trains which will be 200m long and able to carry 1,500 passengers at a time. The air conditioning and mix of seating will make journeys more comfortable and with Wi-Fi and 4G connection people can make their journeys more productive too.
What areas in London will be opened up for event planners that maybe aren't as easily accessible right now?
The new line will connect Heathrow with the West End and main hubs of the City and Canary Wharf. The central section cuts east to west through Paddington to Abbey Wood so venues like ExCeL London will now be even more accessible with the new station at Custom House.
Travelling through central London will be quicker too - it will only take two minutes to travel from Tottenham Court Road to Farringdon or 17 minutes between Paddington and Canary Wharf. The railway of course also stretches further east and west to places like Ealing and Reading in the west and Stratford or Essex in the east which will mean more choice of venues with easy transport links just outside central London.
The Elizabeth line in numbers
run a fleet of 66 new 200 metre long trains built in the UK
Serve 200 million passengers a year
Increase central London rail capacity by 10%
Integrate 10 new stations with 30 upgraded existing stations and improved tube infrastructure
Include 42 km of tunnels
Improve way finding for visitors to London with new signage, screens and help points across the line
Bring 1.5 million more people within 45 minutes of London
Generate at least £42bn for the UK economy
At peak times you can rely on:
24 trains per hour through central London in each direction from Paddington to Whitechapel
12 trains an hour will link southeast London and the Docklands to central London
16 trains an hour will make morning and evening peak travel easier between Shenfield and central London
2 Elizabeth line trains will start at Reading
10 trains an hour will serve surface stations in both directions from west London station Hayes & Harlington into central London