Business Travel Advice for London
An always-on city with a 24-hour transport system to match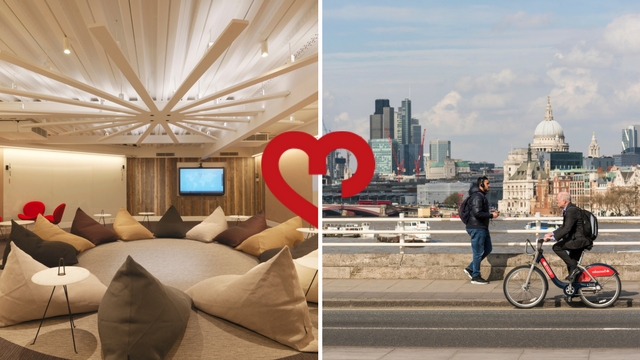 Discover why the world's supreme gateway city is perfect for your event
London is one of the best connected cities in the world and it's very easy for business to travel around London. Transport improvements and enhancements are constantly being made in the capital but from 2018, the £15 billion Crossrail project, forty years in the making, will completely transform travel around London improving connections, increasing capacity and radically reducing the time it takes to get across and around the city -  great news for anyone wanting to bring their event here.
Elizabeth Line
From next summer, Crossrail will begin running from Heathrow Terminal 4 to Paddington, which will further help business in London. By the end of the year it will take only 28 minutes to get to London's West End, 34 minutes to reach the City of London and just 44 minutes to travel from Heathrow in the west to the capital's biggest event venues, ExCeL and O2, located in the east of London.  
Ten new stations are being built as part of the Crossrail project. Paddington, Bond Street, Tottenham Court Road and Farringdon will all be completely overhauled to cater for the 200 million passengers expected to use what will become known as the Elizabeth Line each year. Multiple entrances and ticket halls, more space below ground and straightforward access to the rest of the transport network will make travelling an even easier experience.
In the heart of the West End, Tottenham Court Road will be one of London's busiest stations and totally unrecognisable by 2018. Above ground the area around the station is being improved to reduce congestion and look great. Below ground, two new contrasting entrances at Dean Street and Oxford Street will not only make it possible to accommodate the anticipated 200,000 passengers a day, but will be strikingly modern, reflective of the areas they sit below and full of Turner Prize winning modern art. The Radisson Blu Edwardian Mercer Street in Covent Garden and Hampshire at Leicester Square are both perfectly placed to take advantage of this station's improvements.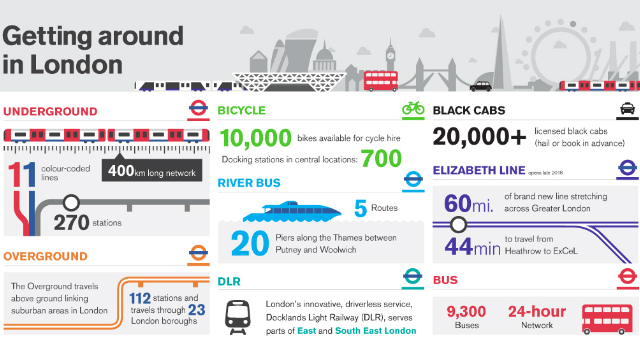 Overground
London overground serves a network of 112 stations. Key central London train stations include Euston, King's Cross and St Pancras International, perfect for business travel. The Radisson Blu Edwardian Bloomsbury Street is the ideal venue if you want to be close to these. It is also in a prime location to take advantage of The British Museum - one of London's best museums.
The London Underground
Simplified into 11 colour-coded lines in nine zones, the oldest subway system in the world is a brilliantly efficient way to get around a hugely complex networks of tunnels underground quickly and easily. From the most traditional stations such as Baker street to the space age style modernity of Westminster under the Houses of Parliament, visitors to the city will appreciate the different personalities of parts of the city under as well as above ground.

London Underground map
PDF - 806 kB
The Tube map makes navigating London's Tube network simple.
Download
Night Tube
Launched last summer, the Night Tube is a great new asset to the capital which means that those organising and attending events running at the weekend can take the opportunity to explore more of what the city has to offer afterwards without the worry of a costly journey back to their hotel late at night.

London Night Tube map
PDF - 475 kB
The night tube map makes navigating London's network simple
View Download
Bus
A journey on an iconic double-decker is a must. It's a cheap, fun and fast way to make your way around town. Available to hire out exclusively for your event or simply enjoy the hop on and hop off experience.
Boat
One of the most peaceful ways to travel around London is without doubt, a journey on the river Thames. Incorporating a boat trip is sure to add wow to any incentive or event. River buses run approximately every 20 minutes and discounts are available for groups of more than 10.
Cable car
If your delegates need to be up with the lark to get to a conference in Greenwich, treat them to a birds-eye view of the city with a trip on the Emirates Air Line to wake them up. After staying at The Radisson Blu Edwardian New Providence Wharf, transport guests across the river to explore the home of time. A maximum of 10 people can fit in a single cabin.
Oyster cards
Travel can be complicated. To simplify the experience, Transport for London makes it possible and much cheaper for visitors to the city of use one ticket for overground, underground, bus, boat and cable car journeys – pretty impressive really!
Even better news for corporate event organisers is that we can offer you a 40% discount on group Oyster card orders (£3 per person instead of £5), which is excellent for sorting out your business travel in London.
Walking
There's no better way to get to know a city than by walking around it. Take the opportunity to get under the skin of the city by exploring what's on the doorstep of your venue. This walking map shows just how close things are to get to on foot in Central London.

Walking times between stations
PDF - 321 kB
View map of station-to-station walking and times in London
View Download
Bicycle
For a slightly quicker pace but just as picturesque as walking, suggest a Santander Cycle (formerly known as Boris bikes) to delegates. You can hire one for as little as £2 a day. For added convenience pick it up from one docking station and drop it a completely different one – there are hundreds to choose from around the city.
Black cabs
For those who may need some help finding their bearings, a Black cab driver will always be able to help. Each one has to spend years learning 'the Knowledge' so that they know the streets, landmarks and secrets of London better than almost anyone else. A cab with its yellow light on if available to hail down in the street. Or book one online
Coaches
For those we are considering coach transport for their event can visit the TFL website for London tips around permitted areas, parking spaces and vehicle registrations.
More than 80% of visitors say that London offers a good range of transport options