Getting to London for Business Travel
If you are looking into business travel to London, choose from one of six international airports or the high-speed Eurostar to make bringing your corporate event to the capital a breeze. The variety of options also means you are likely to identify cheap travel to London.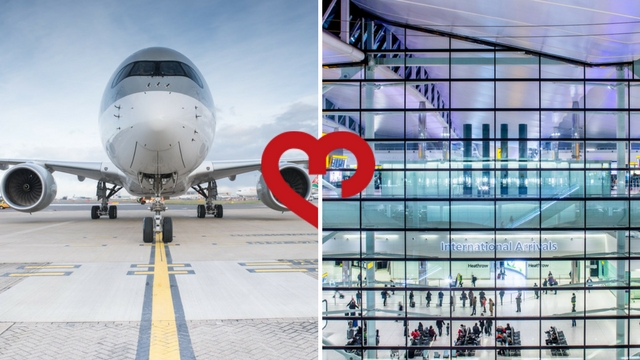 London Heathrow (LHR)
Heathrow is one of the most advanced airports in the world, serving 190,000 passengers every day.
For those travelling on business to London, a range of bespoke group services are offered to enhance the delegate journey through the airport and beyond:
Six premium business lounges across its four terminals
Meet and assist agents are on hand to help delegates through their journey and speak a range of languages
Heathrow porters are available to manage delegates' luggage within the airport
Welcome desks can provide information, maps, programmes or other relevant documents to delegates
Pre-booked coach bays at terminal for pick up can be arranged to allow your coach to be waiting for your delegates as they come through arrivals
Coach drop off –when it's time to leave your guests can be dropped directly outside the terminal forecourt
Heathrow Express runs up to 150 non-stop services a day. It's currently the fastest way to get into central London. Non-stop journeys to London Paddington take just 15 minutes.
In 2018, Crossrail will change the face of train travel across London. From Heathrow in the west, passengers will be able to get to central London stations in 28 minutes, on to the City of London in 34 minutes and finally all the way east to Docklands, where ExCeL and the O2 are located, in just 44 minutes.
London Gatwick (LGW)
Just under 30 miles from central London, Gatwick serves 35 million customers annually and is another popular airport considered when reviewing your corporate travel management. There are four airport lounges available for business or leisure customers to enjoy. A further Regus Express lounge is exclusively available for business travellers. Once inside, guests can use the lounge facilities to freshen up, squeeze in a meeting in one of 11 conference rooms or catch up on work in a private workpod. Getting into central London is a 30-minute journey on the Gatwick Express.
London Stansted (STN)
At 30 miles north east of London, Stansted is one of Europe's fastest-growing airports and can be an ideal airport for those looking to travel and conduct their business in London. It features a business lounge within the terminal and meeting and conference facilities a short walk away at the Radisson Blu Edwardian Stansted Hotel. The Stansted Express is the quickest way to transport delegates into central London. Trains run every 15 minutes and take 47 minutes.
London City (LCY)
Only six miles from central London and three miles from Canary Wharf, City airport is one of the most accessible for business travel to London. The Docklands Light Railway is the fastest public transport route into the heart of the city with trains departing every eight to 15 minutes. Within the airport itself a first class and business lounge are available offering quiet spaces to work.
London Luton (LTN)
Around 25 miles north of central London, this growing international airport is planning to increase its capacity to 18 million passengers by 2020. Lounge facilities include quiet areas to work and Snooze pods to relax and recharge. Trains leave Luton Airport Parkway every 10 minutes to Blackfriars, City Thameslink, Farringdon and St Pancras International with an average travel time of 40 minutes.
London Southend (SEN)
Lying 41 miles east of London, delegates can get to and from Southend airport by train in just under an hour. The purpose-built station is a two-minute walk from the terminal and runs up to eight services an hour. Its lounge facilities offer zoned areas to work and relax for both business and leisure travellers.
Eurostar
For many business travellers coming from Europe, the Eurostar represents a fast, efficient and often cheap travel alternative to flying when organising your corporate business travel. Get from Germany by connecting at Brussels. Journeys from Paris and Brussels take just over two hours to reach the heart of London. From Amsterdam it takes only four hours to arrive at St Pancras International. Travel business class to benefit from 10-minute check-in, a three-course meal and lounge access in London, Paris and Brussels stations. Group travel can be made extra special by hiring a whole carriage. An incentive trip could even have its own branding for the occasion!
More than 70% of visitors to London say that their arrival was smooth and easy