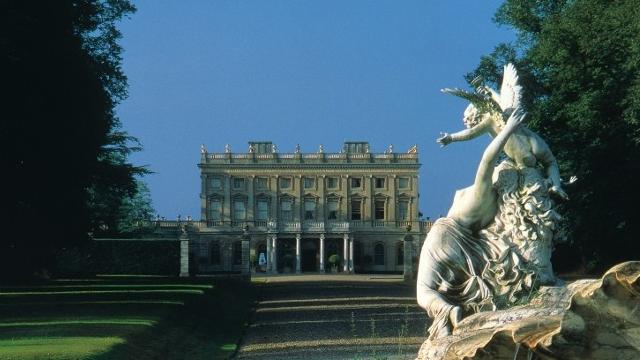 Introduction
World-renowned Cliveden is a historic 49-room grand stately house hotel with panoramic views over the river Thames, just 20 minutes from Heathrow and 40 minutes from Central London.
Overview
One of the world's finest luxury hotels, Cliveden is a grand stately home surrounded by 376 acres of magnificent formal gardens and parkland.
Cliveden's dramatic history includes philandering Dukes, America's 'richest citizen', house parties for prime ministers and visits by Queen Victoria. Cliveden has played host to every British monarch since George I and has been home to three dukes, an earl and Frederick Prince of Wales.
Each of the hotel's 49 bedrooms is dramatically decorated in lavish period style. The hotel's various lounges, private rooms and meeting spaces offer flexibility for groups from four to 120.
Room layouts
Room
Style
Capacity
Cellar (18.2m² / 195.83ft²)
Reception
20
Private dining
12
Banqueting
12
Boardroom
12
Churchill Boardroom (59.5m² / 640.22ft²)
Classroom
20
Theatre
50
Boardroom
20
Hollow Square
32
U Shaped
28
Room Height
3.7m
French Dining Room (73.4m² / 789.78ft²)
Reception
80
Classroom
40
Cabaret
40
Private dining
60
Banqueting
60
Theatre
80
Boardroom
26
Room Height
5m
Motor House (58m² / 624.08ft²)
Reception
50
Cabaret
30
Theatre
25
Boardroom
22
U Shaped
24
Waldos Back (38.1m² / 409.96ft²)
Reception
40
Classroom
20
Cabaret
20
Private dining
20
Banqueting
20
Boardroom
16
U Shaped
16
Waldos Front (38.6m² / 415.34ft²)
Reception
40
Private dining
20
Theatre
36
Boardroom
16
U Shaped
14
Waldos Screening Room (55.44m² / 596.53ft²)
Reception
50
Classroom
26
Cabaret
24
Private dining
40
Banqueting
40
Boardroom
18
U Shaped
16
Contact Details
Looking for more information on organising an event at this venue?
Address:

Cliveden
Taplow
Berkshire
SL6 0JF


Tel:

+44 (0)16 2866 8561

Fax:

+44 (0)162 866 1837

Email:

Web:
London & Partners
As the official convention bureau for London, we offer free, impartial advice, guidance and support to event planners, associations and convention organisers.
Contact us directly if you are planning your event from outside the UK or working on behalf on an international client. We can help you and your delegates access the best that London has to offer.
Tel: +44 (0)20 7234 5833