British Library Conferences & Events
Partner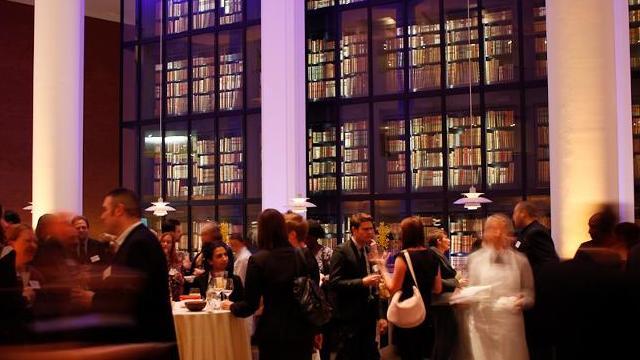 Introduction
At the British Library, we can hold an array of events in our unique spaces, the King's Library Gallery, Knowledge Centre, Boardroom Suite and Terrace Restaurant.
Overview
A venue catering for small meetings up to large conference, private dinners and receptions.
The Library is within easy walking distance of six tube lines and both King's Cross and Euston stations, we are ideally situated in the heart of central London.
Our state-of-the-art Knowledge Centre has its own private entrance and offers exceptional and flexible facilities for conferences, meetings, product launches, lectures, private screenings and media events.
The Terrace Restaurant is a light and open space with an outdoor area offering a unique central London event space for barbecues and receptions.
King George III's private collection provides an awe-inspiring backdrop to dinners for 80 and receptions for 150 guests in the King's Library Gallery.
The Boardroom Suite provides an exclusive meeting and events area for anything between four to 34 people. The main Boardroom is supported by a foyer and four additional rooms – Cotton, Sloane, Harley and Burney.
Room layouts
Room
Style
Capacity
Boardroom
Reception
40
Dinner/Dance
34
Private dining
34
Bronte Room
Reception
60
Classroom
22
Cabaret
35
Theatre
62
Boardroom
28
U Shaped
22
Bronte Room A
Reception
30
Classroom
18
Cabaret
18
Theatre
30
Boardroom
14
U Shaped
12
Bronte Room B
Reception
25
Classroom
12
Cabaret
15
Theatre
20
Boardroom
14
U Shaped
10
Chaucer Room
Reception
60
Classroom
24
Cabaret
36
Theatre
60
Boardroom
20
U Shaped
20
Dickens Room
Reception
25
Classroom
16
Cabaret
18
Theatre
25
Boardroom
16
U Shaped
10
Eliot Room
Reception
68
Classroom
24
Cabaret
36
Theatre
60
Boardroom
24
U Shaped
20
Foyer
Reception
255
King's Library Gallery
Reception
150
Dinner/Dance
100
Private dining
80
Banqueting
80
Terrace Restaurant & Outdoor Terrace
Reception
400
Dinner/Dance
200
Banqueting
150
Theatre
Tiered
255
Contact Details
Looking for more information on organising an event at this venue?
Address:

The British Library
96 Euston Road
London
NW1 2DB


Tel:

+44 (0)20 7412 7599

Fax:

+44 (0)20 7412 5530

Email:

Web:
London & Partners
As the official convention bureau for London, we offer free, impartial advice, guidance and support to event planners, associations and convention organisers.
Contact us directly if you are planning your event from outside the UK or working on behalf on an international client. We can help you and your delegates access the best that London has to offer.
Tel: +44 (0)20 7234 5833