Holocaust memorial service
The Mayor of London, Sadiq Khan's first public engagement.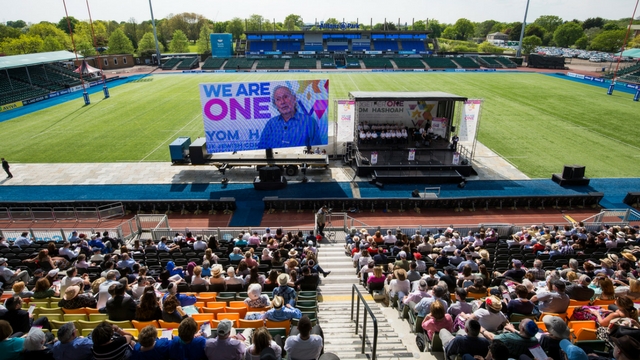 Background
A public ceremony is held annually in the spring, on Yom HaShoah, the Jewish community's remembrance day for victims of the Holocaust. 2015 marked 70 years since the liberation of the concentration camps and an ideal opportunity for the organisers to change the ceremony's format and location, aim to increase the audience size from 100's to 1000's, and therefore seek a new London venue.
Create a comprehensive database of invitees gathered from faith & non faith community organisations, Embassy officials, MP's & Councillors, schools & universities, charities and corporates
Develop a marketing strategy to promote the event to the public both digitally via social media and email, as well as newspaper ads, poster distribution and word of mouth  
Project manage all the venue related logistics and the budget, from the initial planning stage all the way through to on-site and post event de-brief. 
Seek sponsorship
The Planning
A London sports stadium  was selected to host the 90 minute ceremony
An on-line booking system was developed for admission and car park bookings
Event branding created and used throughout
Detailed planning covered access to site, guests seating and parking allocations, strict security requirements, health & safety, AV & the staging layout and protecting the pitch 
The running order started from an overnight set-up, morning rehearsals, afternoon ceremony and de-rig
Volunteer recruitment
The Event
The ceremony was a phenomenal success - an audience of 5,000 in 2015.  3,500 in 2016.
Mayor of London Sadiq Khan attended in 2016, it was his first official public engagement, thus attracting a huge media presence     
A sponsored reception for Holocaust survivors, refugees and Veterans
Choirs performances by primary school children and adults
Readings & speeches by dignitaries and individuals 
Refreshments for everyone to purchase