Congress of the Union Internationale des Concierges Hotels (UICH) 'Les Clefs d'Or'
London delivered one of the best attended UICH events to date with more significant sponsorship support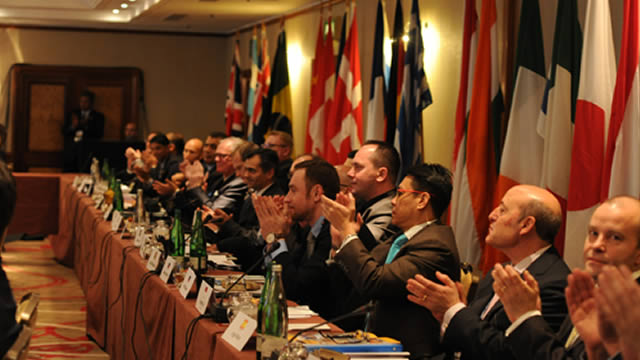 London's Olympic year, a perfect time for more than 600 hotel concierges and their partners, from 40 countries to meet in the UK capital for five days of networking and sharing local knowledge about their regions.
The 59th annual Golden Keys congress took place from 27 January to 1 February 2012. Guests stayed at the classic Art Deco Thistle Marble Arch hotel, located just off London's most famous shopping district, Oxford Street.
They attended a variety of functions and entertainment, which culminated in a grand finale gala dinner, held in the opulent Great Room of Grosvenor House hotel with its sweeping staircase and fairy-tale chandeliers.
The finale featured a display by the Coldstream Guards and was attended by Prince Richard, Duke of Gloucester.
On the first evening, guests attended a celebration of London's theatre-land, held at the Hilton on Park Lane, overlooking Hyde Park. The hotel is perhaps most famous for its 360-degree views of the city from the 28th floor, Michelin-starred Galvin at Windows restaurant.
During the theatrical performance, held in the hotel's elegant Grand Ballroom, guests discovered which of London's many West End theatre shows they would be visiting on the Monday night as they were allocated a choice of Phantom of the Opera, Les Miserables, Crazy for You or Mamma Mia.
The opening weekend saw attendees tour some of London's iconic attractions by open-top bus and visit Europe's largest shopping complex at Westfield, Stratford. Here, they enjoyed stunning views over the Olympic Park before boarding a bus to the world-class entertainment complex, The O2 where they spent time immersed in the UK's musical heritage at the British Music Experience interactive exhibition.
On the Sunday afternoon, delegates were treated to a relaxing cruise along the River Thames to enjoy the stunning vistas. In the evening, everyone went on a dine-around, which due to the high numbers of guests, involved 14 of London's excellent restaurants.
The Monday was reserved as an education day for the concierges but their partners wouldn't be left twiddling their thumbs. They were whisked off to the iconic university city of Oxford, just one hour's drive from the UK capital and spent the day exploring.
Delegates meanwhile participated in a series of seminars, held at another of London's iconic Art Deco Mayfair hotels, the Sheraton Park Lane.
InterContinental Hotels Group, Chairman David Webster delivered a keynote on 'Realising your Potential' and delegates spent the afternoon in discussion groups.
After the evening's theatre trip, delegates met back at the stylish Cumberland Hotel, situated where bustling Oxford Street meets glamorous Park Lane, for a performance by a Beatles tribute band.
The next day, delegates attended the association's AGM, so again partners were treated to a day-out exploring King Henry VIII's royal palace at Hampton Court in the London Borough of Richmond upon Thames. They also visited Bicester Village outlet shopping centre, an hour away in Oxfordshire for some last-minute retail bargains before returning to London for the evening's grand finale dinner.
How London & Partners' Association team helped
The London & Partners Associations team, headed up by Head of Associations Becky Graveney, worked with the UICH over the four years since winning the bid to bring this important association congress to London and ensure it was a success.
"London & Partners was always on hand to offer advice and assistance and helped us with the logistics of organising activity such as the 'dine around evening'" says former President of the Golden Keys and congress organiser Paul Still. "As we are all hotel concierges, we pride ourselves on our ability to organise in each region we visit but with hindsight, I wish we'd used the local knowledge and logistical assistance of London & Partners more, as the UK capital has so much to offer and it was difficult to cram everything into five days."
Results
Paul Still says: "It was one of the best attended congresses and registration filled up quicker than with other cities. Everyone wanted to be in London during its Olympic year. The delegate fees were in line with other past congresses but I feel we offered so much more. This was down to the amount of sponsorship and support we were able to attract by bringing the event to London. It was definitely a destination that people felt was worth being involved with.
"Logistics wise, timings were very tight. We had to keep to a tight schedule when transporting delegates around the capital. The congress hotel was in a great position though, handy for some of the venues and close to stations for transfers. The Heathrow and Gatwick Express trains worked out very well for bringing delegates into the centre of London quickly and efficiently."