New London Restaurants
London's culinary scene is booming, with new restaurants opening in traditional culinary hotspots as well as lesser-known parts of the capital. Discover new London restaurants that are perfect for meetings, events and private dining.
From traditional British cuisine to the latest dining concepts from New York and Hong Kong, London already offers a huge range of restaurant options for event or incentive programmes. 2017 is seeing a wave of new restaurants in London adding to the amazing tastes and experiences on offer: make sure you're on top of the latest London openings with our selection of new restaurants perfect for private dining, events, meetings or product launches. Contact us to find the right space for your event.
New restaurants for 2017 and beyond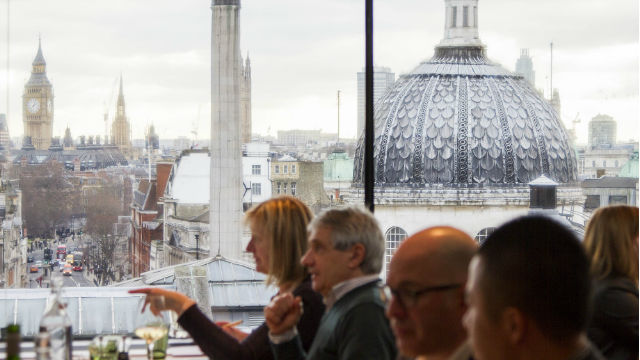 Aviary
Aviary is an elegant rooftop bar and restaurant in Finsbury Square. Located on the 10th floor of the newly opened Montcalm Royal London hotel, it is the perfect venue for your event. With killer panoramic views across the city, you can cuddle up with your colleagues and enjoy an array of drinks from the varied menu. The Glass Box can accommodate up to 50 guests for a cocktail reception. Think outside the box and join your party in the Box!
The Coal Shed
The Coal Shed is offering upmarket steak and fish in London. The venue is housed within a glass box just steps away from the iconic Tower Bridge. After the roaring success of its sister location in Brighton, the venue offers the same high quality food created from locally sourced, seasonal, sustainable ingredients. The Coal Shed enhances the surf and turf concept by having much of its menu cooked on hot coals, like its 35-day, dry-aged Scottish steaks. 
Ella Canta
Chef Martha Ortiz of Dulce Patria (heralded as one of Latin America's most exciting restaurants) is bringing her celebrated Mexican gastronomy to London in a new restaurant at InterContinental London
Park Lane, Ella Canta!
Petersham Nurseries Covent Garden 
In 2017, Petersham Nurseries will bring nature and elegance to the heart of Covent Garden with an unparalleled lifestyle destination that captures the unique spirit and rare beauty of Petersham Nurseries,
Richmond. Floral Court, a central courtyard with access from both King Street and Floral Street, will be transformed into an inspirational haven.
Sushisamba Covent Garden
We'd been hearing rumours of an expansion for Sushisamba and now it's been confirmed – they are taking over the Opera Terrace at Covent Garden. The restaurant will open in 2017 and we can expect the same fusion of Japanese, Peruvian and Brazilian food.
La Dame De Pic
The new Four Seasons hotel in the City has brought in one of France's top chefs to run the restaurant. Anne-Sophie Pic has three Michelin stars in France and will be looking to get a few more in London. Aside from seasonal cooking and local ingredients, Anne-Sophie is known for her unlikely flavour combos, like white cheese ice cream with rocket and cardamom for starters, or beef with smoked coffee for mains
Rick Stein Barnes
Up until now, the only way you'd get to try Rick Stein's food is by heading due South West. But after 40 years in the business, the TV chef is expanding to London. His new London outpost is in Tideway Yard, close to the centre of Barnes. And while it may not have views of the sea, what it does have is a huge conservatory with gorgeous views over the river Thames. There will also be outside seating when the weather warms up with circular seating around an olive tree.
The Other Naughty Piglet 
The Brixton couple have redone over the entire first floor. There are 60 covers, with a large open kitchen, plus the original theatre bar. The menu offers more choice than Naughty Piglets, although very much in the same vein, and ditto for the wine list. Later on in the year, you can expect to see some wine focused dinners, with a winemaker brought in for a special dinner based around the region they, and their wine, come from.
Kitty Hawk Departments of Dining
Explore five bespoke dining experiences under one roof, at the heart of city. The Kitty Hawk is infused with a heady blend of London cool and New York glamour. With polished concrete, exposed iron and tiled interiors, the five departments link together seamlessly. Whatever your mood, there is a social hub here to suit you. The capacity is 400 guests dining.
Duck and Waffle Local
It has been rumoured for a while and now it's confirmed - a new Duck and Waffle is coming to town - setting up shop in St James's Market. But it's not the same as the sky-high original, this time it's being
billed as a "fast casual, chef-curated restaurant". So for this restaurant you will order at the counter before getting a table - and there will be takeaway too. It's a very different beast (or duck) from the original.
Jinjuu Mayfair
It has been Topped as one of CNN's best new restaurants, Jinjuu Mayfair is ready to open in London! As Korean food continues its global rise, this will be a second opening in London from chef Judy Joo. Located on Albermarle Street in swanky Mayfair, it promises a fun and modern take on the country's cooking with dishes that include hoedeopbap: slices of raw and fresh seafood with signature Korean
dressing and marinated skewers of Ibérico pork and prime rib, cooked in the classic Korean barbecue style.
Red Rooster
Marcus Samuelsson's acclaimed Harlem restaurant is opening in the new Curtain Hotel in Shoreditch. The American original has welcomed President Obama and Sir Paul McCartney through its doors, and
this London version, which will open in the summer, is looking to attract the same celebrity buzz. The menu will be stuffed with soul food favourites, with fried chicken and waffles sure to feature prominently.

What's New in London Winter 2018
PDF - 8.6 MB
Find out the latest on new openings in the capital
View Download
What's new in London?