New London Restaurants
London's culinary scene is booming, with new restaurants opening in traditional culinary hotspots as well as lesser-known parts of the capital. Discover new London restaurants that are perfect for meetings, events and private dining.
From traditional British cuisine to the latest dining concepts from New York and Hong Kong, London already offers a huge range of restaurant options for event or incentive programmes. 2017 is seeing a wave of new restaurants in London adding to the amazing tastes and experiences on offer: make sure you're on top of the latest London openings with our selection of new restaurants perfect for private dining, events, meetings or product launches. Contact us to find the right space for your event.
New restaurants for 2017 and beyond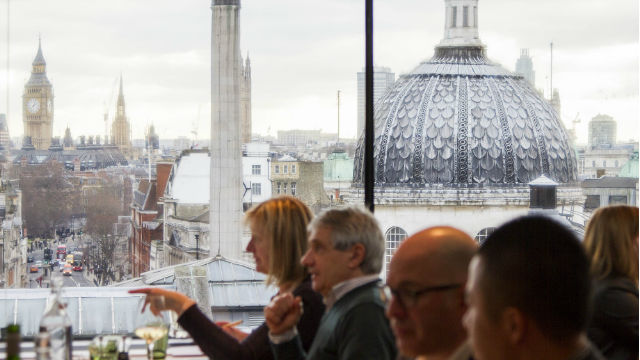 German Gymnasium D&D
London opened the German Gymnasium, one of London's largest restaurants. The former home to the German Gymnastics Society in London was being redeveloped to create a ground floor 150 cover brasserie and bar with outdoor terraces. There is also a smaller restaurant and private dining area on a mezzanine level. The restaurant seats 447 people.
inamo Camden 
Unless you've been living under a rock for the last few decades, you'll know that we are in the digital age. Inamo restaurant is at the forefront of tech-savvy food. The venue features an al fresco garden and roof terrace, which is punctuated by an outdoor grill. Alongside the street-food inspired menu, there is some impressive tech, with guests able to order their food via tablets and choose the images projected on to their tables. Diners can also mess around with the colours and patterns of their digital tablecloths, as well as draw directly on surfaces.
The Cocktail Trading Company 
Newly landed in Shoreditch, Cocktail Trading Co. has been the talk of the town. Eccentric and brilliant, even Brick Lane's notoriously spoilt crowd has been delighted by quirks like serving an entire cocktail as ingredients sealed inside an envelope, which you must then open and assemble yourself. It's bold, but it seems to be working.
Street XO 
It's been a long time coming, but it seems the promised Street XO from Michelin-starred David Munoz is finally coming to town. The inspiration is around European, Asian and South American cuisines. You can expect a little theatre in the presentation too, with some dishes presented on a canvas of paper. As for the space, it's a lower ground affair, with the bar at the front and restaurant at the back - with all tables facing the open kitchen.
Sushisamba Covent Garden
We'd been hearing rumours of an expansion for Sushisamba and now it's been confirmed – they are taking over the Opera Terrace at Covent Garden. The restaurant will open in 2017 and we can expect the same fusion of Japanese, Peruvian and Brazilian food.
Fatty Crab London 
At the moment, if you want to try the wares of Fatty Crab, you'll need to travel to New York, the US Virgin Islands or Hong Kong. However, the good news is that they're opening in London! The cooking is Malaysian-based, so expect steamed buns, though it tends to stretch its fingertips around the Southeast Asian basin. If the NY version is anything to go by, don't wear your best clothes and expect to get down and dirty – this is a finger-pulling, chewing, crunching sort of crab dish rather than anything too polite. Plenty of attitude, in a good way.
The Botanical 
There's a new café coming to the Royal Botanic Gardens in Kew! The 3,300 sq. ft. café is located in the historic 19th-century building and features a terrace overlooking the Palm House Conservatory and pond, as well as a bar and private dining room. The new all day café, The Botanical, will fittingly have a plant-based menu. That means lots of natural, seasonal ingredients, plenty of pickling and preserving and some of the ingredients will be grown at Kew. Drinks-wise, there's an emphasis on gin and the plant theme continues with plant-infused spirits and Kew-inspired botanical cocktails, like the Kew Negroni.
Temper 
Neil Rankin is getting ready for his next venture, Temper. This time, he's setting up shop in Soho, and as expected you can expect a big focus on meat. The restaurant's design sounds pretty interesting. The main dining room will feature an open kitchen and fire pit and there will be a lot of counter dining and a private dining space with room for 30 diners. At street level the bar will showcase tacos being hand made using heritage corn imported from Masienda.
What's new in London?

What's New in London Autumn 2016
PDF - 4.7 MB
Find out the latest on new openings in the capital
Download